A new Creditreform study shows that companies lack knowledge about ESG. The knowledge gap is particularly large when those responsible are in the HR department. So what to do?
In German companies, the topic of ESG has moved into focus. In a new survey by Creditreform, half of the more than 500 companies surveyed rate the topic as relevant. In companies with 250 or more employees, there are even more. That's why some companies are pushing ahead with the topic on their own initiative – for example, in order to remain competitive in the long term. At the same time, companies perceive many challenges. Granting credibility and authenticity is at the forefront, as is the multitude of interests that need to be taken into account.
Challenges in implementing a sustainable business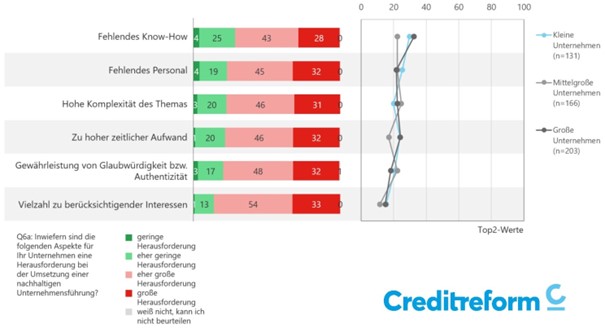 Challenges in implementing sustainable corporate governance
However, when it comes to assessing one's own knowledge, the managers surveyed in the companies are still very cautious. Small companies (10 – 50 employees) have a little more catching up to do than large ones.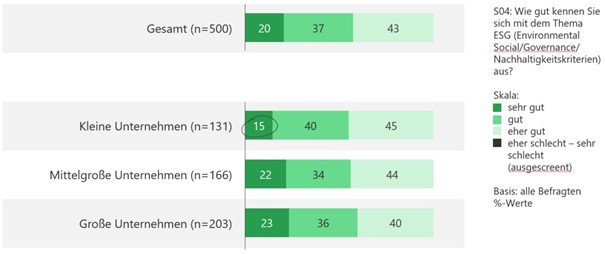 Self-assessment Expertise ESG by company size
How pronounced the knowledge turns out is also due to the area of the company in which the topic is located. In most cases, it is the responsibility of the company's own ESG departments, elsewhere it lies with the management itself, in controlling, in building management or in human resources. Unsurprisingly, respondents who belong to an ESG department rate their knowledge most strongly, followed by senior management. Although the HR department shines with in-depth knowledge in the field of "social affairs", it has to admit deficits in the other two areas "environment" and "governance".
Self-assessment of ESG expertise by department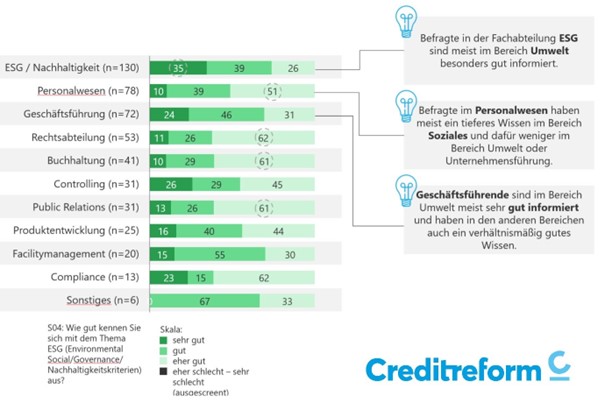 Self-assessment Expertise ESG by department
In general, the results show that knowledge in companies is still too low. We have therefore compiled some basics and answered the most important answers on the subject of ESG.
1 - What is ESG about?
ESG stands for three sustainability-related areas of responsibility in companies:
E = Environment, which includes topics such as pollution and endangerment, greenhouse gas emissions and energy efficiency. This applies not only to their own economic activities, but also to those of partners, such as financiers and suppliers.
S = Social refers, for example, to fair working conditions (appropriate remuneration, diversity, training and further education opportunities), social commitment as well as occupational health and safety.
G = Governance, concerns sound corporate governance. In addition to a clear commitment to sustainability and corresponding standards, this also includes guidelines for the prevention of corruption, bribery and money laundering, the independence of the Executive Board and programmes for internal whistleblowers.
2 - ESG obligations are increasing – what are the legal requirements?
There are many good reasons for companies to deal with the topic of sustainability: changing customer needs, recruiting and employee loyalty, as well as their own values, for example. But even the legal requirements leave no doubt that the topic of sustainability has become indispensable for companies:
- Banks are instructed to integrate the management of sustainability risks into their lending and to take ESG criteria into account in their processes. The basis for this is a draft of the 7th MaRisk Amendment, which regulates the minimum requirements for risk management (MaRisk) of an institution.
- The EU Non-Financial Reporting Directive (NFRD) requires certain companies to publish comprehensive ESG information.
- The Supply Chain Act also requires companies to assess and report on sustainability in their supply chain.
3 - Which companies are affected by the rules and when?
From 2024, the EU directive on CSR reporting will apply to large, capital market-oriented companies with more than 500 employees. From 2025, this will also affect large companies that are not currently subject to the NFRD and, from 2026, listed small and medium-sized enterprises (SMEs). The Supply Chain Due Diligence Act ultimately applies to all companies. Even if they are not so large that they have to report on their own supply chain, they are often part of the supply chain of companies that are obliged to do so and have to answer to them in order to continue to receive orders.
4 - Who supports companies in terms of ESG?
The need for ESG information continues to grow and sustainability data is becoming a new area of business information. As a leading credit agency, Creditreform is therefore working on collecting ESG data in a standardised manner and making it available centrally. Already available, for example, is the Creditreform ESG score, which assesses the sustainability of 76 economic sectors in 25 European countries and helps financial service providers to assess their loan portfolios. But Creditreform is also driving forward the challenge of a company-specific ESG assessment. And in such a way that every entrepreneur can easily name and evaluate his most important ESG data. For this purpose, Creditreform has developed a digital application process and a free "basic questionnaire" that collects the most important data points and will be available in February 2023.
Advice on ESG compliance:
Does your company want to position itself more sustainably? The social and political changes oblige many companies to actively participate in sustainable change. But what do the ESG guidelines mean specifically for your company? And how can you meet the complex requirements? We support you in analysing your individual ESG risks and advise you on various regulatory sustainability topics:
https://www.creditreform-compliance.de/esg-compliance/
Source: Creditreform Group