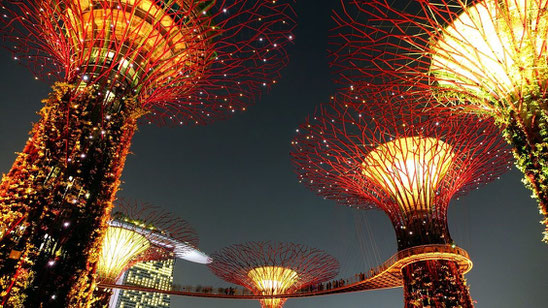 SUMMARY
Overall Score 26 - Stable
Political risk: Stable 9/10
Economic risk: Stable 8/10
Commercial risk: Stable 9/10
The risk assessment of a country is made up of 3 components, being Political, Economic and Commercial. Each component is scored out of 10 with 1 being the highest risk and 10 the lowest.
---
Political Risk – Stable at 9
Singapore remains one of the most stable countries in the world. The People's Action Party (PAP), which has been the main governing party since gaining independence from Malaysia in 1965, was re-elected in July 2020. Amid a COVID-induced economic slump, the PAP's share of the popular vote slid to 61%, its second-worst result on record. However, there are no significant implications for political risk. Abrupt policy changes are unlikely, given the PAP´s still-strong mandate to govern and pass legislation.
In April 2022 Prime Minister Lee Hsien Loong announced that Finance Minister Lawrence Wong was in pole position to take over the premiership when Lee steps down. Lee announced that Wong will lead the PAP's "fourth generation" or "4G" team, effectively making the 49-year-old the heir apparent to assume the top job whenever Lee, 70, calls an end to his career. There has been no decision on whether DPM Wong will take over from PM Lee before the next general election, which is due by November 2025 at the earliest.
Wong's performance as co-chair of the city-state's COVID-19 task force, along with his relatable image, impressed as the PAP seeks to attract a younger set of voters.
Lee, 70, son of the country's founding father Lee Kuan Yew, has been in office since 2004 and once said he had no desire to remain in office after reaching 70. No significant policy changes are expected when and if Wong does succeed the current prime minister.
Meanwhile, the establishment of an official "Leader of the Opposition," a newly instituted role in Singapore, is likely to strengthen checks and balances and lead to a more consultative form of governance that potentially improves accountability. The next general election must be called by 2025.
Economic Risk – Stable at 8
Singapore has the highest possible sovereign credit ratings from Moody's, Fitch and S&P. Singapore's large fiscal and external buffers are often better than those of other highly rated countries. Robust institutions and governance alongside effective policy implementation supports fiscal strength and broad financial stability, and provides plenty of scope to counter cyclical downturns and any long-term structural challenges.
Singapore entered a sharp recession in 2020 as a result of the COVID-19 pandemic. The government adopted highly expansionary fiscal and monetary policies to support the economy. It committed close to S$100 billion through five budgets in financial year 2020. That produced its largest budget deficit since independence. The fiscal measures targeted infrastructure projects that should boost long-term growth. The policy response helped the economy bounce back strongly in 2021, when it recorded growth of 7.6%, the fastest full-year growth since 2010's record of 14.5%.
Commercial Risk – Stable at 9
Singapore consistently ranks as one of the best economies in the world in which to operate. It ranks second out of a possible 190 economies on the World Bank's ease of doing business scorecard, for example, only behind New Zealand. The republic excels in all areas of doing business, particularly enforcing contracts, protecting minority investors, starting a business, dealing with construction permits and paying taxes. The Singaporean government places a strong emphasis on implementing policies to enhance the business environment and encourage investment.
The country ranks in first place in terms of economic freedom, according to the Heritage Foundation. Although certain civil liberties remain restricted, the PAP has championed economic liberalization and international trade.
It is also one of the least corrupt societies in the world, ranking third in Transparency International's (TI) 2021 Corruption Perceptions Index. Singapore is again the only Asian country ranked in the top 10. Singapore has tackled corruption decisively and garnered international recognition for its incorruptibility and clean public sector, according to TI.
Singapore benefits from excellent infrastructure, reflecting high levels of investment supported by years of political stability and economic prosperity. The country hosts superb transport links, for example, and its nationwide fibre network provides its citizens with among the fastest home internet speeds in the world.
January Bulletin
Political Risk – Stable at 9
The PAP won 83 out of 95 seats in the July 2020 election and will continue to dominate the political environment for the foreseeable future. The biggest opposition group, the Workers' Party, had its best result to date, but emerged with just 10 seats. The next election is due by 2025.
Deputy Prime Minister Lawrence Wong is all but guaranteed to become the country's fourth prime minister. Wong's political views are unknown. He is not associated with any major policy initiative or key political ideas. He does have a reputation of being a good administrator.
However, he has acknowledged that many Singaporeans feel "anxiety" about being forced to compete with foreigners for jobs, and vowed to put Singaporeans "at the centre of everything we do". Balancing the resentment felt by many Singaporeans at the influx of foreign workers and the needs of the economy for highly- skilled workers is likely to prove one of his most challenging tasks.
The proportion of overseas workers on temporary visas has risen dramatically over the past half-century, from 3.2% in 1970 to 33% in 2020. Most are low-paid manual or domestic workers. But much of the resentment is directed at highly paid professionals, many of whom work in the key finance sector. Wong has already vowed to introduce a more progressive tax system, and plans to raise taxes on the richest earners.
The other main challenges include balancing Singapore's close relations with both China and the US, a difficult task given both powers are battling for influence in the region and given the escalating tensions over Taiwan.
Economic Risk – Stable at 8
Singapore expects economic growth to slow sharply in 2023, the Ministry of Trade and Industry said in late November, citing the impact of the global economic slowdown. Officials anticipate growth of between 0.5% and 2.5% from an estimated 3.5% in 2022.
Pent-up demand as the economy reopened from the pandemic, boosted the economy in late 2021 and the first nine months of the year. Growth prospects remain strong for several sectors such as travel and tourism, but weak external demand conditions will weigh on export growth in this trade-oriented economy. Non-oil exports in October registered their first decline in 23 months, a possible harbinger of developments going forward.
The key core inflation measure rose by an annual 5.1% in October, slightly lower than 5.3% in September. However, inflation remains at 14-year highs and is likely to stay at elevated levels, "underpinned by a strong labour market and continued pass-through from high imported inflation", the central bank reported in November 2022.
The central bank has responded to higher inflation by tightening monetary policy. Rather than varying interest rates, the central bank manages policy by letting the local dollar rise or fall against the currencies of its main trading partners within an undisclosed band. The central bank has allowed the currency to appreciate on four occasions this year in the hope of containing imported inflation, the latest adjustment taking place in October. In December 2021, the government also introduced new measures to cool the housing market.
Commercial Risk – Stable at 9
Singapore remains one of the best countries in the world to conduct business. Corporate default probability remains very low on average, and the banking system is strong. The two main banks, UOB and OCBC, are likely to see a moderate increase in non-performing loans in 2022, particularly in foreign operations but their overall health is robust with ample reserves and improved earnings this year.
Latest economic data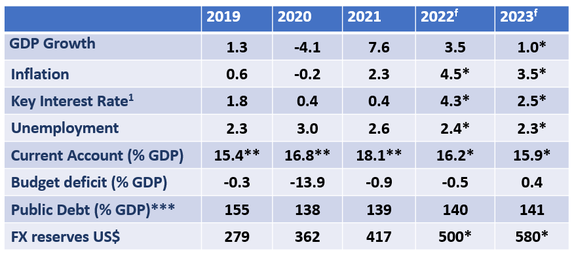 f forecasts
1 Three-month S$ SIBOR rate
* Worldbox Intelligence
** Trading Economics
*** These figures provide a misleading picture of Singapore's creditworthiness. They only show gross national debt. When Singapore's assets are taken into account, the country has a net debt-to-GDP ratio of 0%.
Source: Singapore Government
---
About Worldbox Business Intelligence
An independent service, Worldbox Business Intelligence provides online company credit reports, company profiles, company ownership and management reports, legal status and history details, as well as financial and other business information on more than 50 million companies worldwide, covering all emerging and major markets.
Worldbox was founded in the 1980s, with the vision to become a global business provider. Its ability to deliver data in multiple languages in a standard format has strengthened its brand.
SOURCE: Worldbox