SUMMARY
Overall Score 20 - Stable
Political risk: Stable 6/10
Economic risk: Stable 7/10
Commercial risk: Stable 7/10
The risk assessment of a country is made up of 3 components, being Political, Economic and Commercial. Each component is scored out of 10 with 1 being the lowest risk and 10 the highest.
---
Political Risk - Stable 6
Political uncertainty remains at high levels in Thailand. This partly reflects the large and diverse mix of political parties in the ruling coalition, led by former general Prayut Chan-o-cha, who returned to power as prime minister following the March 2019 election. Cabinet reshuffles and delays in enacting the budget are symptomatic of the lack of cohesion in the government. Meanwhile, the opposition continues to question the legitimacy of Prayut, who seized power in the 2014 military coup.
There are regular street protests demanding a new constitution, the dissolution of parliament, a halt to perceived intimidation of political dissidents, and reform of the monarchy. Prayut is likely to survive while he continues to enjoy the backing of the royalist-military establishment. However, the opposition is effectively exploiting the government's missteps in handling the pandemic, ensuring that the two-decade-old crisis in Thai politics continues for the foreseeable future. Rivals within the coalition are also manoeuvring against Prayut.
Moreover, the political temperature will rise sharply if, as seems likely, Prayut uses legal loopholes to try to extend his premiership beyond 24 August 2022 – the date on which he will have been prime minister for eight years, the maximum term of office for a premier under the Thai constitution. Opinion polls indicate that most Thais want Prayut to quit next year, and street protests and court challenges by the opposition are likely should he fail to heed public opinion.
The polarisation of Thai politics and society has been further aggravated by the ascension of a new and controversial monarch, King Vajiralongkorn (Rama X), who succeeded his long-serving father King Bhumibol on the latter's death in 2016.
Economic Risk – Stable 7
The economy contracted by 6.1 per cent last year amid the pandemic and is underperforming regional peers this year. Thailand's reliance on international tourism, which accounts for 20 percent of national income, left it particularly exposed to the effects of global travel bans. The country saw foreign tourist arrivals plunge to 6.7 million in 2020 and just 73,932 in the first eight months of 2021, from the almost 40 million visitors who generated more than US$60 billion in revenue in 2019.
The Bank of Thailand (BOT) has forecast economic growth of just 0.7 per cent this year, with the economy bottoming out in the third quarter. Successive waves of COVID-19 disrupted the Thai economy in the first half of 2021, with a third wave of infections from April 2021 onwards proving especially severe and precipitating strict containment measures that reduced mobility and negatively affected consumption and business sentiment. That, and the very low level of international visitors, will weigh on the economy in 2021.
The BOT forecasts growth of 3.9 per cent in 2022, supported by an acceleration in tourism and a continuation of the strong global recovery. The economy's improvement is dependent on the course of the pandemic and the government's success in meeting its target of vaccinating 70 per cent of the population by the end of 2021.
The economy faces long-term challenges that were evident before the pandemic, according to the IMF. In 2019, Thailand recorded its lowest growth in five years, having trailed regional peers for the better part of a decade. This, the IMF argued in its 2021 Article IV Consultation, reflects "low productivity growth and lacklustre human and physical capital accumulation, high household debt, and weak social safety nets. Inequality and informality remain high, and a savings-investment imbalance persists".
Commercial Risk - Stable 7
Thailand has made significant gains in the World Bank's Ease of Doing Business index in recent years, rising to 21st position out of 190 economies in 2020, from 46th position in 2016. That is considerably better than the average emerging and developing Asian country rating of 95. However, Thailand remains less competitive than its neighbours Malaysia (in 12th position) and Singapore (2nd), partly due to gaps in educational outcomes and labour skills shortages.
Corruption is a significant challenge. The country ranked 104th out of 180 countries in Transparency International's 2021 Corruption Perceptions Index. Thailand tied with Vietnam in 104th place, two spots behind Indonesia. Malaysia ranked 57th, with a score of 51 points. Thailand was ranked ahead of the Philippines (115th), Laos (134th), Myanmar (137th) and Cambodia (160th) in Southeast Asia.
A national survey in 2017 found that almost 80 percent of Thais believed most or all of the police force was corrupt, while half of Thais felt that most or all local government councillors were corrupt. Businesses and individuals reportedly commonly pay irregular payments and bribes in order to obtain favourable judicial decisions.
The country ranks 42nd in terms of economic freedom, according to the Heritage Foundation's 2021 index. Its overall score increased by 0.3 points, primarily because of an improvement in business freedom. Thailand is ranked 9th among 40 countries in the Asia–Pacific region, and its overall score is above the regional and world averages.
The Thai government has invested heavily in expanding and improving its infrastructure networks over the past decades. Severe road congestion remains a problem in Bangkok, which accounts for half of Thailand's GDP, but the country has made significant strides in improving its digital infrastructure. Since the beginning of the COVID-19 pandemic, mobile internet speeds have improved by 81% and now average 40.79 Mbps, according to an analysis by Surfshark. At the same time, broadband speeds have increased by 29% and now average 189.54 Mbps – the second best in the world. According to Surfshark's Digital Quality of Life Index for 2021, Thailand ranks third in Southeast Asia (behind Singapore and Malaysia) in terms of internet affordability, internet quality, e-infrastructure, e-security and e-government.
January Bulletin
Political Risk – No Change
Prime minister Prayut Chan-o-cha faced fresh street protests in Bangkok calling for his resignation in September, and evidence is growing of divisions between Prayut and key supporters in the government, including Deputy Prime Minister Prawit Wongsuwan. In September, Prayut dismissed one of Prawit's closest aides from the government. The aide was accused of conspiring against Prayut.
At the same time, Prayut appears to be on a collision course with the opposition and the pro-democracy movement, which are adamant that he should step down next year. According to the military-sponsored 2017 constitution, a prime minister's tenure is capped at eight years. Prayut, who staged a coup that ousted an elected government in 2014, has already run the country for more than seven years. By 24 August next year, he will have been in power – as junta leader and head of a government – for a full eight years. His four-year term after the 2019 poll will end in 2023.
Pressure on Prayut will increase if the economy falters again. Scrutiny of the government increased after a fresh wave of COVID-19 in April. More than 98 per cent of the country's 1.7 million confirmed cases and 17,751 deaths have occurred since the beginning of that third wave.
Economic Risk – No Change
At the end of September, the Thai central bank warned that the economy remains fragile and has limited capacity to withstand shocks due to high external dependence amid a severe COVID-19 outbreak. Thailand had vaccinated 36 per cent of its population by mid-October and plans to reach 70 per cent by the year end. Much will depend on the country's success in opening up the key tourism sector to international arrivals. Thailand will end coronavirus quarantine requirements for vaccinated visitors from 61 low-risk countries starting on 1 November, but it may take as long as three years before the industry fully recovers.
Analysts such as Fitch Ratings and Siam Commercial Bank (SCB) do not expect the economy to return to 2019 GDP levels until 2023. SCB anticipates a gradual recovery, reflecting significantly lower tourist arrivals and headwinds from worsening business dynamism, a fragile labour market, and high debt levels.
The SCB has warned of three main risks to the economy:
A potential resurgence in COVID-19 cases both domestically and abroad – especially if virus mutations cause vaccine efficacy to fall
Supply-chain disruptions which could occur due to closures of domestic factories and production stoppages in trade partners within the same supply chain
A more severe impact from the damaging economic impact of the lockdowns than expected, leading to widespread consequences on household and business debt servicing.
Commercial Risk – No Change
In October, Fitch Ratings said that the credit ratings of most large Thai corporates had stabilised, although some sectors, such as banks, retail and hospitality, remain under earnings pressure due to the pandemic. It added that the asset quality of Thai banks remains obscured by ongoing regulatory measures; around 14 percent of commercial bank loans are under regulatory relief, and there is also forbearance on loan classifications. Fitch anticipates that the SME segment, which accounts for around 23 percent of loans, will remain under particular pressure from weak business and economic activity. It adds that while non-performing loans will continue to rise and profitability will remain challenged in 2022, Thai banks have built up reasonable reserves and capital buffers.
Latest economic data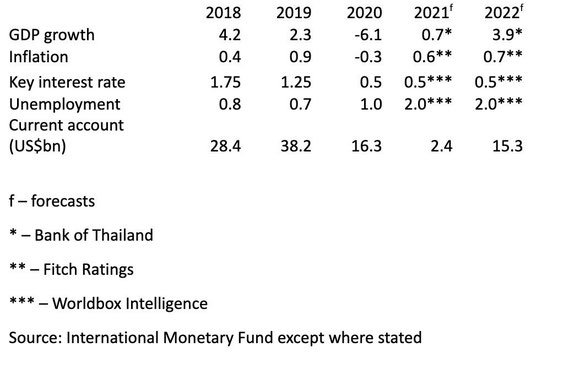 ---
About Worldbox Business Intelligence
An independent service, Worldbox Business Intelligence provides online company credit reports, company profiles, company ownership and management reports, legal status and history details, as well as financial and other business information on more than 50 million companies worldwide, covering all emerging and major markets.
Worldbox was founded in the 1980s, with the vision to become a global business provider. Its ability to deliver data in multiple languages in a standard format has strengthened its brand.
Source: Worldbox