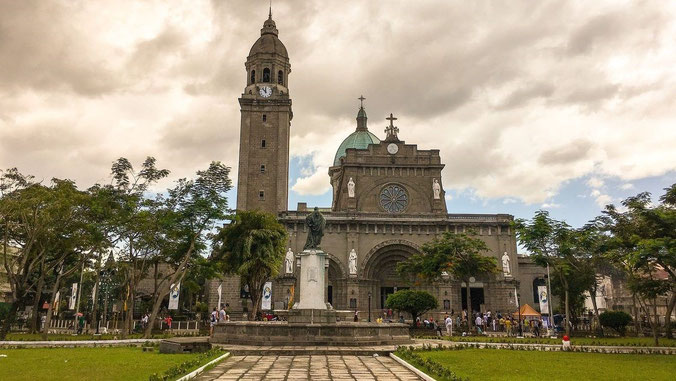 SUMMARY
Overall Score 22 - Stable
Political risk: Stable 8/10
Economic risk: Stable 7/10
Commercial risk: Stable 7/10
The risk assessment of a country is made up of 3 components, being Political, Economic and Commercial. Each component is scored out of 10 with 1 being the highest risk and 10 the lowest.
---
Political Risk – Stable at 8
The new president Ferdinand "Bongbong" Marcos Junior, elected in a landslide at the May 2022 presidential election, has continued many of the policies pursued by the outgoing president Rodrigo Duterte. These include the controversial and sometimes brutal war on drugs. Marcos is the son of the former dictator of the same name. 
Duterte´s daughter, Sara Duterte-Carpio, won the vice-presidency, having run on joint ticket with Marcos. Her election should protect Duterte against potential legal action by the International Criminal Court, which is investigating thousands of killings since 2016 during his war on drugs. Duterte has denied wrongdoing and has said it will not cooperate with the ICC. 
The election result has not had any significant impact on economic or investment policy, or on the country's overall political stability. The Philippines is a democracy in which powerful families, rather than ideology, tend to dominate the political environment. Despite reports of vote-buying and some election-related violence, recent polls have been reported as fair and credible. Meanwhile, long-term violent insurgencies continue in parts of the country, although their threat to the state has diminished significantly in recent years.
In foreign policy, the tilt back towards the USA and away from China that began in the final months of the Duterte regime has continued under Marcos. Previously under Duterte, the Philippines had moved closer to China, and threatened to break Manila's long-standing treaty alliance with Washington, which criticised the war on drugs. Meanwhile, China opened up markets to Philippine agricultural products and pledged billions of dollars in credit and investments, mostly for infrastructure. 
In November 2022, in a clear sign that Manila was rebalancing back to the US, both countries agreed to expedite the implementation of a stalled 2014 defence pact that would see US troops gain access to a number of Philippine military facilities. Signed in 2014 under the administration of then-US President Barack Obama, the agreement allows Washington to rotate troops into the Philippines for extended stays, build facilities and pre-position both assets and supplies at the five Philippine military facilities currently designated under the deal. 
In February 2023, the Philippines granted the US greater access to its military bases, amid mounting concern in the country over China's increasing assertiveness in the disputed South China Sea and tension over Taiwan. Since taking power, Marcos has met President Joe Biden twice and said he could not see a future for his country without the US.
Also in February, the US repeated a warning that it would defend its treaty ally if Filipino forces come under attack in the disputed South China Sea, after a Chinese coast guard ship was involved in an incident with a Philippines' patrol vessel.
Economic Risk – Stable at 7
One of the most dynamic economies in the region, the Philippines was hit hard by the COVID-19 pandemic, but growth is now recovering strongly. Over the 10 years to 2019, economic growth averaged 6.3 per cent per annum, one of the highest rates in Asia. According to the IMF, "sustained reforms and prudent macroeconomic policies supported strong economic growth and helped contain external and macro-financial vulnerabilities".
The economy grew by 5.7% in 2021 after a record 9.6% contraction in 2020 driven by prolonged COVID-19 lockdowns. The economy strengthened further in 2022, expanding by 7.6%, the fastest pace since 1976 and above the government's target of 6.5 to 7.5%.
Economic planning secretary Arsenio Balisacan has said the government aims to achieve economic growth of at least 6% throughout the term of President Marcos. He added that would involve boosting investment in agriculture and manufacturing and building infrastructure to expand the economy by between 6%-8% annually to 2028. Farm and industry output currently account for less than 40% of gross domestic product, while services contributes the majority. 
New taxes will be needed over the next six years to fund the investment. The Department of Finance (DoF) has already unveiled a fiscal consolidation plan which aims to raise an average of P284 billion (US$5.16 billion) in fresh revenues every year for the next 10 years to repay the P3.2-trillion (US$58 billion) of additional debt incurred during the pandemic. The plan involves new tax measures such as value-added tax (VAT) on digital service providers; excise tax on single-use plastics, motorcycles and luxury goods; and tax on gaming and cryptocurrency.
The government also believes there is scope to increase the taxes on mining revenues, and to introduce pollution taxes and more "sin" taxes on the likes of cigarettes and alcohol.
That would be in line with the former administration's policies. Under Duterte, the government introduced a comprehensive tax reform programme that involved lowering personal income tax, a tax amnesty for delinquent taxpayers. The new administration is also likely to press ahead with reforms in real property valuation and passive income taxation that the previous administration failed to get through Congress. 
However, given the Philippines is still recovering from the impact of the pandemic on the economy, the government will be wary of tightening the fiscal screw too quickly. Indeed, incoming Finance Secretary Benjamin E. Diokno has said that he wants to avoid new taxes for now, and would rather focus on improving tax administration via digital processes.
Commercial Risk – Stable at 7
The business environment is improving significantly, according to the World Bank's Ease of Doing Business (EODB) index. Its 2020 report ranked the Philippines in 95th place out of 190 economies, with a score of 62.8. But the country jumped 29 notches from 124th and a score of 57.68 in 2019. The World Bank uses 10 indicators to measure a country's EODB performance: Starting a Business, Dealing with Construction Permits, Getting Electricity, Registering Property, Getting Credit, Protecting Minority Investors, Paying Taxes, Trading Across Borders, Enforcing Contracts, and Resolving Insolvency.
The Philippines made significant progress in the areas of Protecting Minority Investors, Getting Credit, and Dealing with Construction Permits during the year. In other indicators, the Philippines ranked 32nd in Getting Electricity, 120th in Registering Property, 95th in Paying Taxes, 113th in Trading Across Borders, 152nd in Enforcing Contracts, and 65th in Resolving Insolvency.
The Philippines ranks joint 116th out of 180 countries in Transparency International's 2022 Corruption Perceptions Index –lower than the likes of Thailand, Vietnam and Indonesia. According to the Philippines Corruption Report by GAN, high levels of corruption severely restrict the efficiency of businesses operating in the Philippines. 
GAN cites extensive bribery within the public administration and vague and complex laws that make foreign companies vulnerable to extortion and manipulation by public officials. Favouritism and undue influence are widespread in the courts, leading to time-consuming and unfair dispute resolution, and to an uncertain business environment. Corruption plagues the customs administration, and fraud routinely occurs for companies when filing import and export documentation. Moreover, GAN says that the legislative framework for fighting corruption is scattered and is not effectively enforced by the weak and non-cooperative law-enforcement agencies.
The country ranks in 89th place in terms of economic freedom, as ranked by the Heritage Foundation's 2023 Index, down from 73rd in 2021. The Philippines ranks 18th out of 39 countries in the Asia–Pacific region, and its overall score is approximately the world average.
June Bulletin
Political Risk – Stable at 8
The government faces no significant threats to its rule. The election of Marcos Junior and Duterte-Carpio avoided a situation, which has happened in the past, when candidates from rival parties have been elected to the posts of president and vice president and have been unable to work together. 
A slight improvement in political rights and civil liberties has taken place during the first year or so of Marcos's term in office, according to Freedom House's "Freedom in the World 2023" report. 
In February 2023, Marcos ordered the Interior Department and the national police to assess political hot spots in the country and dismantle private armies and confiscate illegal firearms, following a series of attacks and killings of local politicians.
Economic Risk – Stable at  7
The government is anticipating growth of between 6.0-7.0% in 2023 despite the challenges presented by slowing global growth and an aggressive tightening of monetary policy by the central bank.  Offsetting those negative influences, China's reopening –particularly the return of Chinese tourists – should boost the Philippine economy. China was the second-largest source of visitors in 2019 with 1.7 million arrivals or 22.2% of the total. MUFG Global Markets Research expects gross travel receipts could hit US$6-8 billion in 2023, higher than US$3.7 billion in 2022 and catching up to $9.8 billion in 2019.
Core inflation, which excludes volatile food and energy costs, rose at its fastest pace in 24 years in February, suggesting monetary policymakers will maintain their tightening bias despite a slowdown in headline inflation. Core inflation rose 7.8% in February from a year ago, quickening from 7.4% in the previous month. Meanwhile, headline inflation slowed to 8.6% year-on-year, from 8.7% in January.
Bangko Sentral ng Pilipinas Governor Felipe Medalla has stated that the central bank will act to bring inflation back to its 2%-4% target this year. The central bank has overseen the nation's most-aggressive tightening in two decades, increasing borrowing costs to 6% in February, up from 2.0% last May. The key rate is now at its highest since August 2008. Further rates rises this year cannot be ruled out.
Officials said in November 2022 that the government's debt-to-GDP ratio should decline to about 50% by 2028 due to strong economic growth. The ratio climbed to 62% in 2022 from below 40% before the pandemic hit revenues and spending surged.
Commercial Risk – Stable at 7
Philippine banks' asset-quality risks are increasing due to the rising cost of living and higher interest rates, but any deterioration in credit quality is likely to be manageable due to adequate financial buffers of the main borrowers and the robustly growing economy, Fitch Ratings reported in March 2023.
Fitch added that large corporate borrowers, which dominate the banking sector's loan portfolio, are in relatively strong positions to weather higher financing costs. Small businesses and consumer loans are more vulnerable, given their thinner buffers, but any weakening is likely also going to be manageable as Fitch expects the job market to remain resilient in the near term.
Latest economic data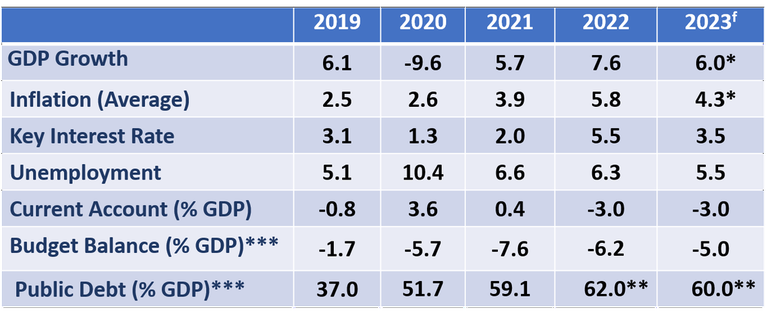 ---
About Worldbox Business Intelligence
Worldbox Business Intelligence, headquartered in Switzerland, is a Global API data solution provider of business intelligence and used in data analytics.
We offer data in a standardised structure for more effective integration into client applications. Our own global network of subsidiaries, branches and desks allows us to precisely collect data efficiently and target key territories for clients.
With the Global API solution Worldbox Business Intelligence enables clients and partners also a frictionless real time onboarding, KYC and compliance verification while rapid global investigations are provided, if needed.
Worldbox Business Intelligence provides global data in a standardised structure to more than 160 Million companies worldwide. The global network of subsidiaries, branches and desks allows to precisely and efficiently collect data and target key territories for clients and partners."
"Worldbox Business Intelligence - Bringing Swiss Precision To Data"