Technological innovation drives economic growth, writes Adrian Ashurst, CEO of Worldbox Intelligence, and businesses will encounter a myriad of new trends in 2022 that will help drive the global economy´s recovery from the COVID-19 induced recession.
In my childhood, whenever one of the family complained that things had changed, my father would always say - "Do not see this as negative - accept it, we have to live with it" - because "Change is the only thing permanent in life".
He was right, of course, and the pace of change shows no sign of letting up in 2022. Indeed, the consultants McKinsey argue that over the next decade, "we will experience more progress than in the past 100 years as technology reshapes health and material sciences, energy, transportation and a wide range of other industries". McKinsey adds that the implications for corporations will be broad.
---
Figure 1: Advancing technology has always spurred economic growth and now it is accelerating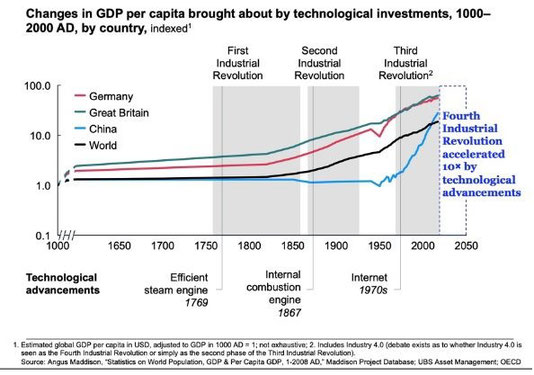 Faster connectivity driving economic growth
Remote working, for example, will certainly continue to expand this year and may well become an established mode of operating in many industries. That is driving demand for secure and fast internet connections and other enablers of mobile working. The growth of 5G and the Internet of Things will help ensure faster connections in areas such as mobility, healthcare, manufacturing and retail and could increase the global gross domestic product by $1.2tn to $2tn by 2030, according to McKinsey. The consultants expect 5G to have reached 80% of the global population by 2030, driving the use of new services, such as remote health surgeries and improving the customer experience through the use of virtual reality.
Computing power
The growth of computing power underpins the technological shifts taking place across the globe. The ability to invest in quantum computing, a rapidly-emerging technology that harnesses the laws of quantum mechanics to solve problems too complex for classical computers, may well provide a decisive competitive advantage in the future. More than two thirds of large companies are investing or planning to invest in quantum computing, according to a survey by software company Zapata published in January 2022. Moreover, almost a fifth of large companies are investing more than US$1m on quantum computing. Transport is the leading sector for quantum adoption. Banks are also starting to use them in areas such as portfolio optimisation and fraud detection. They may also be used, when combined with traditional computers, to improve machine learning.
Figure 2: Quantum computing adoption by industry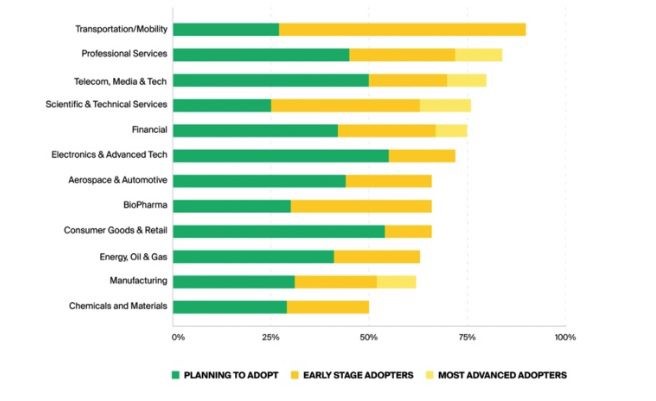 Source: Zapata
According to McKinsey, Quantum Computing will disrupt a wide range of industries, including materials, chemicals and pharmaceuticals in the coming years. It will allow for the personal development of products in medicines for example, and will allow the faster adoption of self-driving cars.
The spread of robots
Self-learning, reconfigurable robots will increasingly drive the automation of physical processes, and 2022 is likely to witness a dramatic increase in the use of robots in a host of areas. Labour shortages, new minimum wage requirements, the continued growth of e-commerce and inflation will accelerate robotic adoption. The falling price of sensors and other robot hardware will continue, enabling the adoption of robotic solutions. Improvements in AI are also helping robots to adapt, and complete more complex tasks enabling their migration beyond traditional manufacturing and warehousing. Consequently, the use of robots could spread this year into retail outlets and restaurants, and other areas of the service industry, as well as construction and laboratories.
The rise of social commerce
Consumers are increasingly using social media platforms to make their purchases, with the entire shopping experience — from product discovery to the check-out process — taking place on a social media platform. Indeed, according to a recent report from the professional services business Accenture, the US$492 billion global social commerce industry is expected to grow three times as fast as traditional ecommerce to US$1.2 trillion by 2025, mainly driven by the under 40s demographic. Around 3.5 billion people– 44%+ of the world's population – use social media, with consumers in developing countries more likely to have a smartphone with social media apps than they are a laptop, according to Accenture. The organisation adds that around two thirds (64%) of social media users surveyed said they made a social commerce purchase in the last year. That amounts to nearly 2 billion social buyers globally.
The trend provides a huge opportunity for companies both big and small, particularly in developing countries. However, trust is the biggest barrier to success with half of social media users surveyed, indicating they are concerned that social commerce purchases will not be protected or refunded properly so providing guarantees in this area is crucial.
Improvements In Battery Life
Batteries are one of the few areas that have failed to keep pace with technological innovation in other areas. However, that is now changing fast and improvements to batteries will enable devices to last longer and charge faster, which in turn allows people to be less tethered.
Electrical vehicle (EV) makers are leading the drive for improved battery life in the knowledge that this will give them a critical edge in the EV market. In early 2022, Mercedes announced the development of a concept vehicle with a range of up to 620 miles, double the existing range of many EVs.
Improvements in battery efficiency are being accompanied by the rise of more sustainable devices - devices with a longer shelf life in terms of hardware and operating system updates and more recyclable components. Dell, for example, has unveiled a "Concept Luna," laptop, designed to have a long life and take less of a toll on the planet's resources. It has features that are intended to make repair and maintenance easy. So, screwdrivers aren't needed to open a broken keyboard or peel off a cracked screen; both can be opened quickly by removing a couple of items. Devices like this are likely to appeal to "green" consumers but could inevitably affect long term sales.
Virtual reality enters the shopping world
Virtual and augmented reality technologies are increasingly being applied by retailers. IKEA, for example, has launched an augmented reality app that allows customers to browse the company's catalogue, and design entire rooms using virtual reality to place IKEA´s products in your own living areas. Other companies now allow consumers to virtually try on products such as clothing and fashion accessories via mobile and Web apps. These are just some of the trends that are likely to affect businesses in 2022 and beyond. As ever, companies that recognize the need for rapid, agile adoption of new tools, new technology, and fresh ways of doing business have the best chance of prospering, while those that stick to the "old ways" are almost certainly doomed.
---
Worldbox Business Intelligence is a global solution provider of business intelligence and data analytics, headquartered in Zurich, Switzerland with research operations around the world.