The European Average Payment Delay decreased for the fifth quarter in a row.
This study has been realized in May 2022 by Informa. The Average Payment Delay (APD) continued its declining trend that started in the first quarter of 2021 (Q1 2021) and reached 13.20 days this quarter. It is the lowest figure registered since Q2 2020.
The European APD decreased in this quarter due to the reduction of payment delays in 5 of the countries under study, especially in France (-1.02 days) and Ireland (-0.96 days).
Since Q1 2021, 7 out of the 9 countries under study have reduced their APD. The most important reduction occurred in Belgium, with a drop of 2.27 days, which allowed it to reach an APD under 10 days for the first time.
Despite having the shortest APD, the Netherlands had the largest increase (+1.01 days).
The 9 countries under study are divided into three groups: good payers (the Netherlands, Germany and Belgium), countries with longer payment delays (Italy and Portugal) and the countries in between (Ireland, the United Kingdom, France and Spain).
There is a wide disparity among the groups: the APD varies up to 21.32 days depending on whether it is a Dutch or a Portuguese company.
AVERAGE PAYMENT DELAY DISTRIBUTION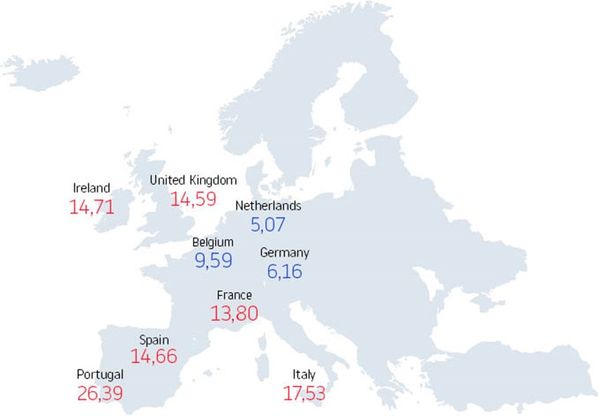 Sources: Dun & Bradstreet – Informa D&B
APD EVOLUTION SINCE THE FIRST QUARTER OF 2021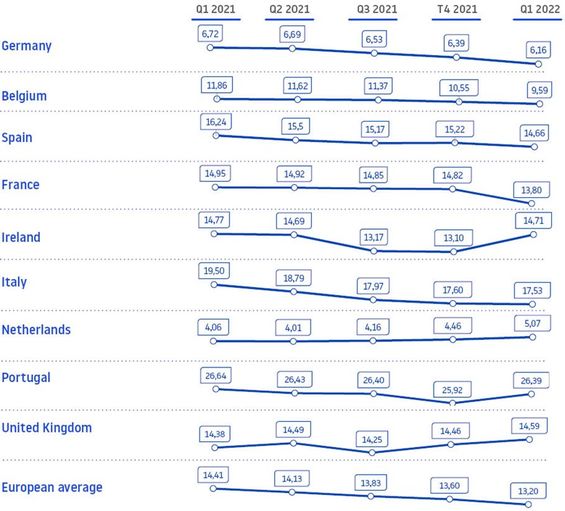 Author: Informa Studies Direction
Source: Informa