SUMMARY:
Overall Score 26 - Stable
Political risk: Stable 9/10
Economic risk: Stable 8/10
Commercial risk: Stable 9/10
The risk assessment of a country is made up of 3 components, being Political, Economic and Commercial. Each component is scored out of 10 with 1 being the lowest risk and 10 the highest.
---
Political Risk - Stable 9
Singapore remains one of the most stable countries in the Asia-Pacific region. The People's Action Party (PAP), which has been the main governing party since Singapore gained independence from Malaysia in 1965, was re-elected in July 2020. Amid a COVID-induced economic slump, the PAP's share of the popular vote slid to 61 per cent, its second-worst result on record. However, there are no significant implications for political risk.
Abrupt policy changes are unlikely, given that the PAP still has a strong mandate to govern and pass legislation. Prime Minister Lee Hsien Loong, son of the country's founding father Lee Kuan Yew, has been in office since 2004 but has indicated this term will be his last. The establishment of an official "Leader of the Opposition", a newly instituted role in Singapore, is likely to strengthen checks and balances and lead to a more consultative form of governance that potentially improves accountability.
Economic Risk – Stable 8
Singapore has the highest possible sovereign credit ratings from Moody's, Fitch and S&P. Singapore's large fiscal and external buffers are often better than those of other highly-rated countries. Robust institutions and governance, alongside effective policy implementation, support fiscal strength and broad financial stability, and provide plenty of scope to counter cyclical downturns and any long-term structural challenges.
Singapore has been one of the countries worst hit by the COVID-19 pandemic in the Asia-Pacific region. Strict lockdown measures and a slump in global growth precipitated the trade-reliant economy's worst ever recession last year: a contraction of 5.4 per cent.
However, the economy entered the pandemic in robust health. This allowed the authorities to offer a strong policy response, led by highly expansionary fiscal measures – targeting infrastructure projects that should boost long-term growth, for example. The authorities also pursued an accommodative, data-dependent monetary policy.
By September, Singapore had already vaccinated over 80 per cent of its population and a strong economic recovery was underway : the economy registered 1.3 per cent year-on-year growth in Q1, led by a strong performance by the manufacturing sector. Growth accelerated to 14.7 per cent year-on-year in Q2 and amounted to 6.5 per cent in Q3.
The economy is expected to grow by around 4.1 per cent in 2022, according to the median results of a Bloomberg survey conducted in September 2021. The main risks to growth include uncertainty surrounding the COVID pandemic's trajectory, higher-than-expected inflation, and geopolitical uncertainty involving major economies.
Commercial Risk - Stable 9
Singapore consistently ranks as one of the best economies in the world in which to operate. It ranks second out of 190 economies on the World Bank's ease of doing business scorecard, for example, behind only New Zealand. The republic excels in all areas of doing business, particularly enforcing contracts, protecting minority investors, starting a business, dealing with construction permits and paying taxes. The Singaporean government places a strong emphasis on implementing policies to enhance the business environment and encourage investment.
Singapore ranks in first place in terms of economic freedom, according to the Heritage Foundation. Although certain civil liberties remain restricted, the PAP has championed economic liberalisation and international trade. The country is also one of the least corrupt societies in the world, ranking third in Transparency International's (TI) 2021 Corruption Perceptions Index. It is again the only Asian country ranked in the top 10. Singapore has tackled corruption decisively and garnered international recognition for its incorruptibility and clean public sector, according to TI.
The republic benefits from excellent infrastructure, reflecting high levels of investment supported by years of political stability and economic prosperity. It benefits from superb transport links, for example, and its nationwide fibre network provides Singapore's citizens with among the fastest home internet speeds in the world.
November Bulletin
Political Risk - No Change
The PAP won 83 out of 95 seats in the July 2020 election and will continue to dominate the political environment for the foreseeable future. The biggest opposition group, the Workers' Party, had its best result to date but emerged with just 10 seats.
Although he initially promised he would step down from power before he turned 70 in February 2022, Prime Minister Lee Hsien Loong, son of Singapore's founding statesman Lee Kuan Yew, has now pledged not to resign until the economic and health crisis is resolved. In April 2021, Deputy Prime Minister Heng Swee Keat unexpectedly announced he would step aside as Lee Hsien Loong's designated successor. No significant policy changes are expected whoever succeeds the current prime minister.
Economic Risk – No Change
The central bank unexpectedly tightened monetary policy in October. The Monetary Authority of Singapore (MAS) raised the slope of its currency band "slightly" from the previous 0 per cent rate of appreciation per annum. That means the Singapore dollar is allowed to appreciate against a basket of currencies within an undisclosed band. The MAS manages monetary policy by setting the exchange rate, rather than through interest rates.
The tightening followed news that the economy grew by an annual rate of 6.5 per cent in the third quarter. However, a spike in infection rates in September prompted the introduction of further restrictions on movements that could prompt a slowdown in the remainder of the year. The MAS's move reflects its concerns about inflation, with Singapore highly exposed to rising international prices for energy and other goods. However, the economy is on course to record strong growth of 6 per cent plus this year, with growth in the range of 3 to 4 per cent forecast for 2022.
Commercial Risk – No Change
Singapore remains one of the best countries in the world to conduct business. Corporate default probability remains very low on average, and the banking system is strong. The two main banks, UOB and OCBC, are likely to see a moderate increase in non-performing loans over the rest of 2021 and 2022, particularly in foreign operations, but their overall health is robust, with ample reserves and improved earnings this year.
Latest economic data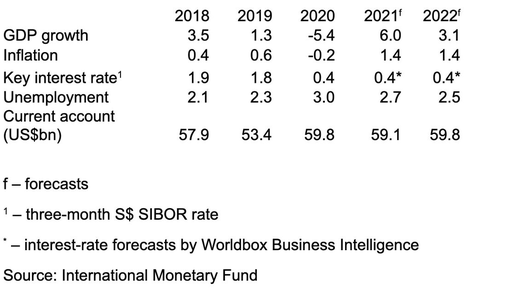 ---
About Worldbox Business Intelligence
An independent service, Worldbox Business Intelligence provides online company credit reports, company profiles, company ownership and management reports, legal status and history details, as well as financial and other business information on more than 50 million companies worldwide, covering all emerging and major markets.
Worldbox was founded in the 1980s, with the vision to become a global business provider. Its ability to deliver data in multiple languages in a standard format has strengthened its brand.
Source: Worldbox