This study has been realized in January 2021 by Informa. Following this study, the Average Payment Delay (AMD) in 2020 for 9 European countries in our analysis has worsened because of the effects of COVID-19 crisis on payments. For the second time in 2020, the European AMD exceeds 14 days, which had not happened since the first quarter (Q1) of 2016. Since Q4 2019, the length of delay payments has been 1.33 days. The European AMD exceeded in Q4, the 14 days for a second consecutive quarter, something which had not occurred since Q1 2016 and stood at 14.50 days in Q4 2020.
In the last quarter of 2020, the AMD increased in all countries except in the United Kingdom. Spain took the highest increase, with a lengthening of 0.88 days.
Since the last quarter of 2019, payment delays have increased in all countries under study, except Germany and Portugal. France and Ireland are the two countries which increased their AMD the most between Q4 2019 and Q4 2020, reaching 3.06 days and 3.63 days, respectively.
For the second consecutive quarter, the French AMD exceeded 15 days, for the first time since the beginning of 2011.
The difference in AMD between the countries studied reached 23.31 days this quarter Q4.
We can rank the countries in the study according to their AMD in Q4 as follows:
Countries below 7 days delay payments, notably: the Netherlands and Germany. The Dutch AMD keeps the shortest records for all the 9 countries in our survey, with only 4.10 days.
Countries with an AMD close to the average, namely: Belgium, Ireland, United Kingdom, Spain, and France.
Finally, countries with the longest track of delays were Italy and Portugal.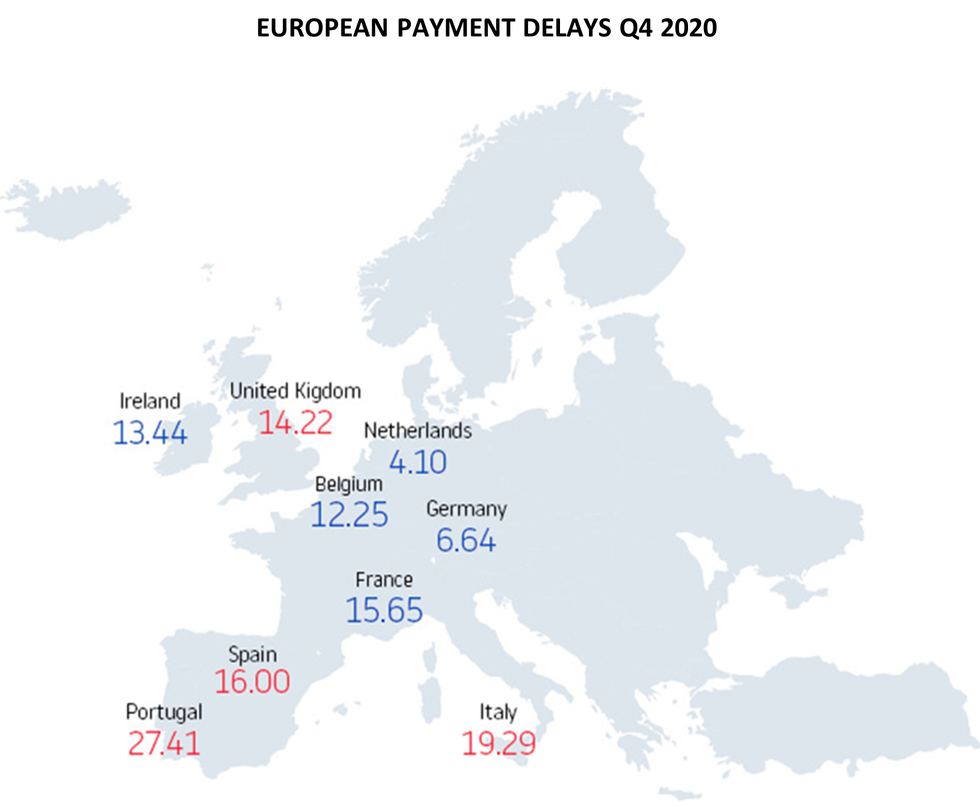 Sources: Dun & Bradstreet – Informa D&B