Indonesia, already ASEAN's largest economy, is likely to account for an increasing proportion of the region's GDP over the coming decade as the resource-based economy industrialises, argues Adrian Ashurst, CEO of Worldbox Intelligence.
Browsing the dusty shelves of a second-hand bookstore in Bangkok recently, I came across a hardback entitled "Canada: Tomorrow's Giant". The publication date was 1957. In fact, Canada has slipped down the economic rankings, from eighth-largest in 1960 to ninth-largest in 2020. And it does not carry any special weight in military, geopolitical or diplomatic terms.
But the author of that book was far from alone in making grandiose claims about a country's potential. A standard economic textbook of the late 1950s featured a chart showing the GDP growth of the USA and the USSR. The lines steadily converged to show the Soviet Union surpassing and subsequently soaring above America from the late 1960s onwards.
Later, in the 1980s, business gurus made a fortune lecturing the world about the Japanese economic miracle and how the country was poised to become the global economic superpower while American industry rusted into oblivion. Real-estate and stock prices soared to the extent that, by the late 1980s, the Imperial Palace in Tokyo was worth as much as the entire US state of California. The bubble burst in the early 1990s and the country has spent much of the past three decades battling against deflation.
Indonesia posed for sustained growth
These examples underline why it is a good idea to be sceptical when grandiose claims are made about a country's potential. However, there are times when forecasts come true, and that could well be the case for Indonesia. Already home to the largest economy in Southeast Asia, and the tenth-largest in the world (measured by purchasing power parity), Indonesia is attracting the attention of credible analysts with its rapid economic growth. The likes of KPMG, The Economist, PwC and Goldman Sachs are all tipping the economy for greatness. (Goldman Sachs forecasts it will be the fourth-largest economy in the world by 2075.)
IMF plaudits
Looking that far ahead is fraught with difficulties, but the country's recent economic performance has certainly been impressive. For example, the IMF's most recent review of the Indonesian economy, published in March 2023, says:
"The economy continues to grow strongly. Buoyed by high prices for many of Indonesia's commodity exports, GDP grew by 5.3 percent in 2022. Growth is projected to stay strong, driven by the recovery of domestic demand and solid export performance, but to moderate slightly to 5 percent in 2023, given tighter policy settings and the normalization of commodity prices."
Indonesia has turned into something of a poster boy for the IMF. The organisation praises the government's "sensible, forward-looking, and well-coordinated policies" and "strong macroeconomic management". It adds that "broad-based reforms to promote an enabling business environment, diversify the economy, and mitigate climate change will raise growth and make it more sustainable". Finally, the IMF highlights Indonesia's strong record of economic and financial stability.
The foundations for continued strong growth are certainly in place. The government's prudent fiscal policies mean that debt is very low by international standards, at just 40% of GDP. Compare that with the advanced economies, where it averaged 112% of GDP in 2022.(1)
Meanwhile, Indonesia's overall foreign debt is equivalent to just 29.6% of GDP, and it fell last year, while private debt stands at under 10% of GDP. (2) (3)
The country is determined to keep debt at low levels. The government is required to cap the annual budget deficit at 3% of GDP; the cap was temporarily suspended during the pandemic but has been restored for 2023. Meanwhile, the government is trying to build ambitious projects such as a US$34bn new capital city by attracting foreign investors, rather than lumbering local taxpayers with the bill.
Demographic dividend
Indonesia's demographics compare favourably with many other countries, both within the region and globally. Productive-age citizens, between the ages of 15 and 64, accounted for 71% of the population in 2021, the highest share since 1961. The over-65s accounted for just 10%, while over half the population was aged under 40.
Meanwhile, the government is hoping to exploit Indonesia's vast wealth of natural resources to turn the country into an industrial leader. By 2027, for example, it aims to become one of the top three countries in the electrical vehicle (EV) sector, producing EV batteries as well as electric cars.
The country has an abundance of the raw materials used to make the lithium-ion batteries that power EVs. These include nearly a quarter of the world's known reserves of nickel, as well as plentiful quantities of copper, bauxite and tin. It lacks lithium but is currently in talks to source the mineral from Australia. A number of foreign carmakers and investors have been already lured to the country. They include Hyundai, LG, Mitsubishi, Toyota and various Chinese companies.
Figure 1: Indonesia is home to many of the minerals critical to the EV industry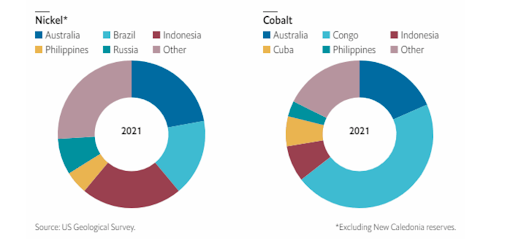 Source: https://www.eiu.com/n/indonesia-quest-to-enter-ev-supply-chains/
Foreign investment is also rising quickly in other sectors. Indonesia received US$43bn in foreign direct investment (FDI) in 2022, the highest in the country's history and an increase of 44% from 2021. The country is targeting a further US$66bn in FDI this year. These figures indicate that the government's efforts to pressure companies to refine commodities onshore are meeting with success. The authorities have, for example, enforced a ban on nickel-ore exports since 2020. That is forcing companies to buy machinery and build plants in Indonesia.
There doesn't seem to be any real risk to the country's continued economic progress. There are no credible foreign threats, the country is politically stable, and an ageing population doesn't cast a cloud over its future, as is the case in many other Asian countries. For once, those forecasts of a golden economic future really do seem credible.
---
---
About Worldbox Business Intelligence
Worldbox Business Intelligence, headquartered in Switzerland, is a Global API data solution provider of business intelligence and used in data analytics.
We offer data in a standardised structure for more effective integration into client applications. Our own global network of subsidiaries, branches and desks allows us to precisely collect data efficiently and target key territories for clients.
With the Global API solution Worldbox Business Intelligence enables clients and partners also a frictionless real time onboarding, KYC and compliance verification while rapid global investigations are provided, if needed.
Worldbox Business Intelligence provides global data in a standardised structure to more than 160 Million companies worldwide. The global network of subsidiaries, branches and desks allows to precisely and efficiently collect data and target key territories for clients and partners."
"Worldbox Business Intelligence - Bringing Swiss Precision To Data"
Source: Worldbox