Russia's invasion of Ukraine has put the issue of energy security firmly on the agenda. So just how secure are Southeast Asia's energy supplies, asks Adrian Ashurst, CEO of Worldbox Business Intelligence.
Prior to Russia's invasion of Ukraine, Europeans never gave much thought to where their energy came from. That all changed back in February, when the dangers posed by Europe's reliance on Russia for 40% of its energy needs became apparent. Since then, Europe has scrambled to wean itself off Russian gas and oil, and with considerable success – Russia now provides only around 9% of Europe's needs. But dangers continue to lurk. A harsh winter could quickly deplete stored reserves, while a revived Chinese economy next year could intensify competition for limited global supplies. Meanwhile, building enough renewable energy will take years and, on its own, will fail to provide security.
It is easy to mock Europe – and particularly Germany – for having allowed such a situation to develop, but there are signs that Southeast Asians have also become complacent about their energy security. In a report published in June, for example, the International Energy Agency (IEA) warned that Russia's war on Ukraine has "shone a spotlight on the energy security vulnerabilities of Southeast Asian countries".(1)
Energy demand threatens to overtake supply
The IEA points out that most Southeast Asian countries have seen their economies double in size since 2000, and this growth has been so rapid that it is now threatening to outstrip the region's ability to keep itself supplied with energy. So, while power generation in the region has almost tripled in the past two decades, to keep pace with economic growth, rising living standards are boosting energy consumption: there has been a threefold increase in the number of air-conditioning units in the region over the same period.
At the same time, dependence on imports of energy into the region is growing and will continue to do so, heightening Southeast Asia's vulnerability to geopolitical instability. The region has been an aggregate importer of oil since the mid-1990s. In 2020, it imported around 2.6 mb/d of oil (Thailand and the Philippines accounted for 40% of total oil imports to the region), mainly from the Middle East and Africa. Moreover, on current trends, the IEA estimates the region will become a net natural-gas importer by 2025, and will import more than 130 bcm per year by 2050.
Figure1: Southeast Asia is heavily dependent on sources of energy outside the region and this dependency is set to grow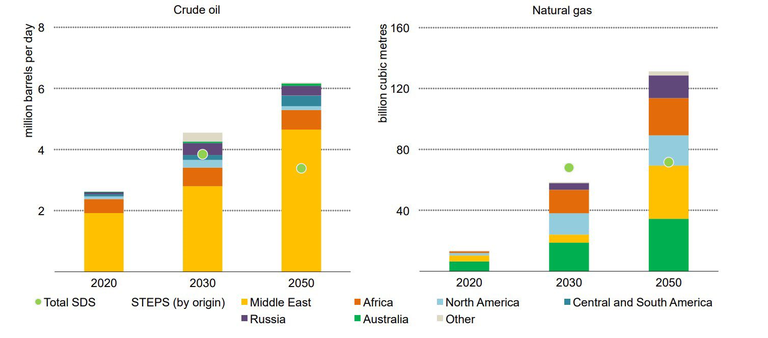 Source: https://iea.blob.core.windows.net/assets/e5d9b7ff-559b-4dc3-8faa-42381f80ce2e/SoutheastAsiaEnergyOutlook2022.pdf
Increasing investment in renewables is of critical importance to Southeast Asia's energy security, according to the IEA. However, the Agency accepts that oil stockpiles provide a vital means of gaining protection against supply disruptions. While there are a number of mandatory operational oil-stockpile regimes for companies operating in Southeast Asia, these are generally equivalent to fewer than 40 days of oil use (and in some cases as few as six days), says the IEA. Many countries in Southeast Asia have studied or discussed establishing strategic reserves, and a reserve in Vietnam has already started operation. The IEA has called for international cooperation and the building of oil-sharing arrangements with neighbouring countries.
Building a renewable future
Southeast Asian nations need to more than double their annual investment in renewables to accelerate the energy transition and meet climate goals, according to a report by the International Renewable Energy Agency (IRENA), published in September 2022. An average annual investment of US$210 billion in renewable energy, energy efficiency, and supporting technologies and infrastructure will be needed in the period to 2050 to limit the rise in global temperatures to 1.5 degrees Celsius. An increased focus on renewables would also leave the region less vulnerable to global supply disruptions and volatility in global energy prices.(2)
The region is fortunate in having easy access to a wide range of renewable energy sources, including solar, wind, hydro and biomass. Around a quarter of the region's power capacity comes from renewables, which are already the lowest-cost form of energy in Southeast Asia. IRENA believes this figure could increase to as much as 40% of total power capacity by 2030.
Although significant investment is needed to boost renewables in the national energy mix, those costs are balanced by substantial savings on supply and fuel costs, says IRENA. It adds that ASEAN's investment in renewables must almost triple from the current levels. Huge investment opportunities exist in renewable power, transmission, biofuels, energy efficiency, hydrogen and electromobility. These are potentially worth more than US$6 trillion over the period to 2050.
Hydropower offers huge potential
Hydropower could provide a large proportion of the region's energy needs. Cambodia and Vietnam already rely on hydroelectricity produced along the Mekong River system for more than 50% of their electricity. Overall, hydropower accounts for 14.5% of electricity generation in South and Southeast Asia, with a total hydropower installed capacity of 117 gigawatts (GW). Capacity is expected to grow further in order to meet the region's growing electricity demand and electricity export opportunities.
Major new hydropower projects are underway or are being considered in Indonesia, Malaysia and Laos, which has ambitions to become the "battery of Southeast Asia". Laos already exports electricity to Thailand, Vietnam, Cambodia, Myanmar, Malaysia and Singapore. Nearly 80 dams can be found in this landlocked country, and more along the Mekong River are in the pipeline.
Meanwhile, Chinese and Japanese investors are jointly developing a US$17.8 billion hydroelectric power station on the island of Borneo, in the Indonesian province of North Kalimantan. The project will include the construction of five dams along the Kayan River, with a combined generating capacity of 9 GW. This would make it the largest hydroelectric station in Southeast Asia.
The Indonesian government believes North Kalimantan has the capacity to generate 23 GW of electricity if fully developed. That is equal to about a third of Indonesia's total power-generation capacity, which is currently dominated by coal-fired plants.
In conclusion, Southeast Asia's growth up to now may have been built on fossil fuels, but for a variety of reasons – including the pressure to tackle climate change and secure the region's energy supplies – renewable energy will become an increasingly important driver of future growth. Fortunately, the region has huge potential in this respect. The main challenge may well prove to be ensuring that investors have the confidence to put their money in projects that can make the region energy independent.
Worldbox Business Intelligence is a global solution provider of business intelligence and data analytics, headquartered in Zurich, Switzerland with research operations around the world.
Souce: Worldbox