Russia's invasion of Ukraine has prompted governments around the world to review their energy policies. Southeast Asia's growing dependency on fossil fuel imports from outside the region leaves it particularly vulnerable to supply disruptions. Adrian Ashurst, CEO of Worldbox Intelligence, explains why that is likely to lead to an investment bonanza for energy businesses.
Russia's invasion of Ukraine has had a profound impact on global energy markets, prompting high and volatile prices for fossil fuels and greater competition for non-Russian supplies. It has also caused some to question the wisdom of reducing or closing off fossil fuel production in the drive to a greener future. The UK government has already made a U-turn on fracking, for example, and is encouraging firms to increase output of oil and gas from traditional sources such as the North Sea.
The market turbulence has also shone a spotlight on the energy security vulnerabilities of Southeast Asia and their ability to weather supply disruptions, according to the International Energy Agency's Southeast Asia Energy Outlook 2022 1. The Agency points out that energy demand in the region has increased on average by around 3% a year over the past two decades. While the Covid-19 pandemic disrupted growth in energy demand, economic growth is set to return accompanied by increased energy demand. Three-quarters of that increase in energy demand by 2030 will be met by fossil fuels, the agency predicts.
However, demand for fossil fuels will outpace local production leading to a steadily increasing import bill and leaving the region vulnerable should external supplies falter. Southeast Asia has been an aggregate oil importer since the mid-1990s, importing around 2.6 mb/d of oil (Thailand and the Philippines accounted for 40% of total oil imports to the region), mainly from the Middle East and Africa, in 2020. The IEA believes imports will rise to 4.6 mb/d in 2030 and 6.2 mb/d in 2050. Based on today's policies, the agency adds that the region will becomes a net natural gas importer by 2025, buying more than 130 bcm per year by 2050.
Figure 1: Southeast Asia remains heavily dependent on fossil fuels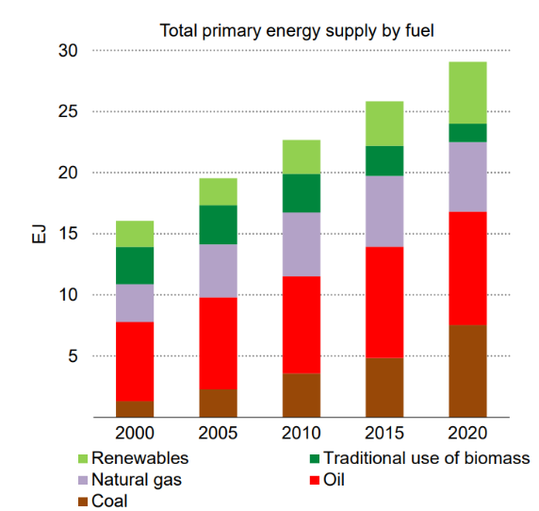 Note: EJ = exajoule; 2020e = estimated values for 2020
Source: Southeast Asia Energy Outlook 2022, International Energy Agency
That growing dependency has prompted calls for greater investment to secure energy security, potentially providing a bonanza for energy businesses. Between 2016 and 2020, annual average energy investment in Southeast Asia reached around US$70 billion, of which around 40% went to clean energy technologies – mostly solar photovoltaic, wind and grids. The IEA forecasts energy investment will rise to an annual average of between US$130-190 billion by 2030.
The International Renewable Energy Agency (IRENA), an intergovernmental organisation that supports countries in their transition to a sustainable energy future, places an even higher figure on the investment required. In September 2022, the agency said that, in the long term, average annual investment of US$210 billion was needed on renewable energy, energy efficiency and to support technologies and infrastructure in the period to 2050 to limit a global temperature rise to 1.5 degrees Celsius. The investment is more than two and a half times the amount currently planned by Southeast Asian governments to reach their goals, according to IRENA.
The region is already ramping up investment in renewables. An EY study of eight economies across Asia — Indonesia, Japan, Malaysia, the Philippines, South Korea, Taiwan, Thailand and Vietnam — between August and September 2020 found as many as 800 clean energy projects in the pipeline. Assuming all of them are realized, EY reported that the projects would involve potential investment potential of over US$316bn and an emission-saving potential of over 229 metric tons of carbon dioxide equivalent. It added that the projects and investments had the potential to generate up to 870,000 jobs.
IRENA believes coal retirement, coupled with renewables and regional grid interconnection, is an indispensable step to aligning with net-zero targets. However, it is not just Southeast Asia that needs to be weaned off coal and other fossil fuels. This year, European countries have turned to Southeast Asia's coal and liquefied natural gas (LNG) producers to help offset the collapse of Russian supplies.
In particular, European buyers have been scrambling to buy coal from Indonesia, the world's largest exporter of thermal coal. In the first half of 2022, Indonesian coal exports rose by a fifth compared to the same period last year. Another surge is expected to have taken place in the second half of the year as buyers prepare for the European winter.
Malaysia, the world's fifth largest LNG exporter, has also reportedly seen an increase in exports to European states. Russia indefinitely halted gas flows to Europe through the Nord Stream 1 pipeline. In late September, Denmark and Sweden reported gas leaks in the Nord Stream 1 and 2 pipelines. NATO said the incidents were the result of "deliberate, reckless and irresponsible acts of sabotage". Net-zero transition policies are also boosting demand for cleaner fuels such as LNG, which produces 40% less CO2 2 than coal and 30% less than oil.
While countries such as Malaysia and Indonesia can reap windfall profits from fossil fuel exports in the short-term, a transition to clean energy is required to provide a long-term solution to soaring oil and gas prices. However, the IEA has warned that energy costs will continue to rise in the short term for a number of Southeast Asian nations, as they need to increase their fossil fuel stockpiles to guard against supply disruptions.
The agency adds that unpredictable regulation and restrictions on foreign direct investment are holding back private-sector investment. It explains that solar energy in Indonesia would be 40% cheaper if its investment and financing risks were comparable to those of advanced economies. Contracts with power generators also need to become more flexible to reflect the variable nature of renewable generation, according to the IEA. Power stations in some countries are currently paid whether their electricity is needed or not.
That said, it is clear that massive investment in renewables and other forms of energy will take place in the coming decades, providing huge profits potential for firms willing to enter this market early.
---
Worldbox Business Intelligence is a global solution provider of business intelligence and data analytics, headquartered in Zurich, Switzerland with research operations around the world.
Source: Worldbox