Tourism, long a key driver of the Thai economy, is unlikely to recover for years. Many of the country's sparkling beaches are empty and tourist centers such as Phuket look like ghost towns. Yet industry, exports and investment are booming and could transform the economy in the coming years explains Adrian Ashurst, CEO of Worldbox Intelligence.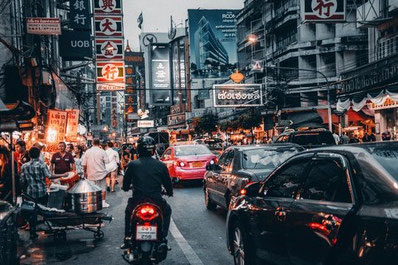 Thailand's famed tourism sector has just begun to re-open after taking a battering during the COVID-19 pandemic. But the number of tourists entering the country remains a trickle and the process of recovery is likely to be slow for an industry which generated a record US$62bn in 2019. This accounted for around 22% of GDP and generated jobs for over 6 million Thais. By contrast, just 428,000 tourists arrived in 2021.
However, positive changes are stirring in the undergrowth of the Thai economy. Foreign investment is rising and exports are surging towards record levels. Exports rose by 17.1% in 2021, the highest growth seen in 11 years, led by autos and auto parts, iron and steel products, IT equipment and chemicals. That helped the country record an annual trade surplus of US$3.57 billion.
Exports take up the slack
Indeed, exports were the main driver of Thailand's growth last year, according to the Thailand Development Research Institute (TDRI), which advises the Thai Government on development policies. The TDRI says that more than 75% of Thai exports have already exceeded their pre-Covid value, particularly processed foods, computers and parts, automobiles and parts, and rubber and rubber products. Pet food exports have also been a surprising bonus, reflecting increasing numbers of people working from home and buying pets for company. Thailand is one of the top three producers of pet food globally.
The rebound in manufacturing has been captured by the IHS Markit Thailand Manufacturing PMI, which rose to a record peak of 51.7 in January 2022, from 49.5 in the prior month. Output rose the most since the October 2021 survey record; and buying levels grew at a record peak as some firms increased their input buying to safeguard against shortage.
A number of factors explain Thailand´s export-led manufacturing rebound, and its growing appeal to investors. The depreciation of the Thai baht has boosted competitiveness as global trade accelerates from the severe pandemic associated lockdowns of 2020.
Figure 1: The Thai baht has fallen sharply against the dollar over the past year, boosting export competitiveness
Published on TradingView.com , Feb 08, 2022 09:09 UTC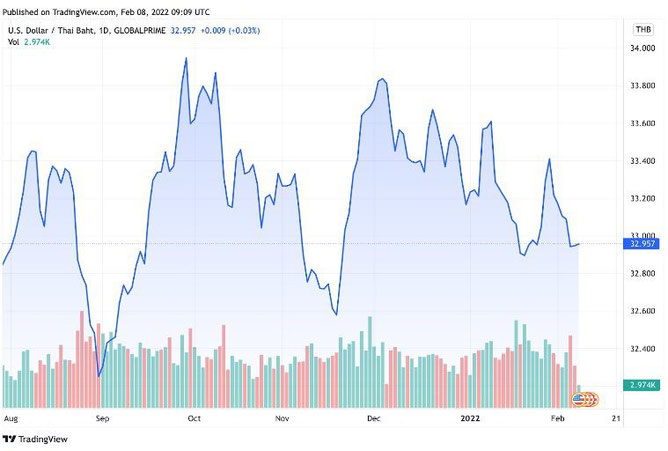 Source: Trading View
Location, location…
Thailand is also benefiting from Sino-US trade tensions with foreign and Chinese companies shifting production from China to countries such as Thailand, particularly in the automotive and parts, electronics, and platform and digital information cloud services industries.
Thailand and Southeast Asia in general is an attractive alternative to China because of its proximity to the country, its relatively reasonable costs and its growing economy. A 2019 survey of members of the American Chamber of Commerce in China found that approximately 40% had relocated manufacturing facilities outside China or were considering doing so. Among those 40% that were moving or had moved, Southeast Asia came top as the alternative location, with nearly 25% of respondents indicating a preference for the region.
Thailand offers many particular attractions as an alternative source of production to China. It is home to the second largest domestic market in Southeast Asia, which has been growing rapidly for decades. It is already one of Asia's major automotive, electronics and petrochemical production hubs with relatively good infrastructure and an attractive business climate in terms of the Ease of Doing Business and receptiveness to foreign direct investment (FDI).
Kirida Bhaopichitr, the Economics Research Director at the TDRI, certainly believes that the export boom will endure. She recently told CNA Insider(1) that "Sino-US trade tensions are not going to go away while the Thai baht is likely to remain weak".
Examples of companies moving to Thailand include Murata of Japan, the world's largest supplier of capacitors and an iPhone parts supplier. It has announced plans to open a new plant in Thailand in October 2023. The plant will eventually rival the company's export hub in China, and Murata´s expects China´s overall share of its production capacity to decline. Explaining the move, Murata president, Norio Nakajima, told the ´Financial Times´, that "there is a risk of events happening beyond our control," and that "it is imperative to diversify our supply chain." He told the newspaper that key customers such as Apple were also diversifying away from China.(2)
Many Chinese automakers particularly in the electrical vehicle sector have already made the move to Thailand to circumvent possible restrictions on exports from China to the US and its allies. The companies are now producing cars, batteries and auto parts in the Kingdom.
Since labour costs have been rising in Thailand for many years and it is now a middle-income country, it is higher value-added industries that are migrating to Thailand. By contrast, labour-intensive industries are more likely to set their sights on Vietnam.
The country hopes to exploit the shift out of China by turning the country into a regional investment, production, trade and transport hub. The plans are part of a 20-year blueprint to help Thailand achieve developed nation status.
Investment in Thailand is certainly booming. The combined value of foreign and local applications for investment in 2021 rose by 59% to 643 billion baht. This was led by an increase in FDI in tech sectors and more projects in the bio-, circular and green industries, as well as a continued focus on the power generation sector. FDI accounted for around 71% of total investment with Japan, China and Singapore the main sources of these funds. The Thai Board of Investment said it was seeing constant growth in foreign investments in sectors such as smart electronics, speciality chemicals, bioplastics and the medical cluster.
The war in Ukraine is having a short-term impact on the economy – mainly driven by rising prices. Steel prices, for example, rose by more than 20% following the outbreak of war between two of the world's major steel exporters - Russia and Ukraine – which will hit the construction sector and parts of manufacturing.(4)
Overall, however, Russia is Thailand's 30th most important trading partner, so it is doubtful that any disruption to trade will have a significant impact on the Thai economy.
Upgrading tourism
The number of international tourists is expected to rise to almost 7 million in 2022, with a sharp upswing in the second half of the year, before increasing further to around 20 million arrivals in 2023 - still just half the 2019 level. The TDRI does not expect tourism numbers to climb back to the 40 million level in three to four years. While Kirida Bhaopichitr at the TDRI believes tourism has an important role to play in generating wealth across the economy, she argues the authorities should try to attract wealthier tourists rather than relying on backpackers by, for example, developing the wellness sector.(3)
Sanctions imposed on Russia following the invasion of Ukraine could affect the tourism sector. Before the Covid-19 pandemic, Thailand attracted thousands of Russian tourists. However, Russians cannot now directly pay hotel and other travel bills or business investments via the SWIFT international banking system because of US sanctions.
Nonetheless, the pandemic has almost certainly accelerated a shift away from tourism and towards higher value-added manufacturing and services.
Economic activity is expected to return to pre-pandemic levels by early 2023 according to the Bank of Thailand. In April, the central bank projected economic growth of 3.2% this year and 4.4% next year, driven by domestic demand and tourism. Those figures are lower than earlier forecasts and reflect the outbreak of war in Ukraine, which has caused rising energy and food prices so dampening domestic demand. Longer-term, booming FDI and expects should power an even stronger economic recovery.
Footnotes:
Worldbox Business Intelligence is a global solution provider of business intelligence and data analytics, headquartered in Zurich, Switzerland with research operations around the world.
Source: Worldbox