Thousands of Russian enterprises are under sanctions. Cooperation with such companies implies the emergence of a compliance risk and may lead to the blocking of the transaction by banks. At the same time, restrictions are also applied to companies controlled more than 50% (50 Percent Rule) by an entity under sanctions, even if the companies are not directly included in the list of sanctions.
SANCTIONS IN NUMBERS
The Russian entities are obliged to comply only with the sanctions of Russia itself and of the UN Security Council, of which Russia is a permanent member, thereby coordinating the introduction of restrictions.
Currently, the most discussed types of sanctions are blocking and sectoral ones. Blocking sanctions prohibit any trade transactions with specific individuals and legal entities. Sectoral ones prohibit transactions in certain sectors of the economy.
For the entire duration of the sanctions regimes of various countries, the sanctions were applied to more than 42 thousand companies, persons, air and water transport, including over 2,6 thousand Russian companies that have been directly sanctioned.
Most restrictions used came from the United States. In the US, sanctions and restrictions are imposed by several government departments at once that is why over 13 thousand entities appeared to be under direct sanctions. This is followed by Ukraine imposed more than 10 thousand restrictions. Russia has currently applied restrictions to 1,332 entities.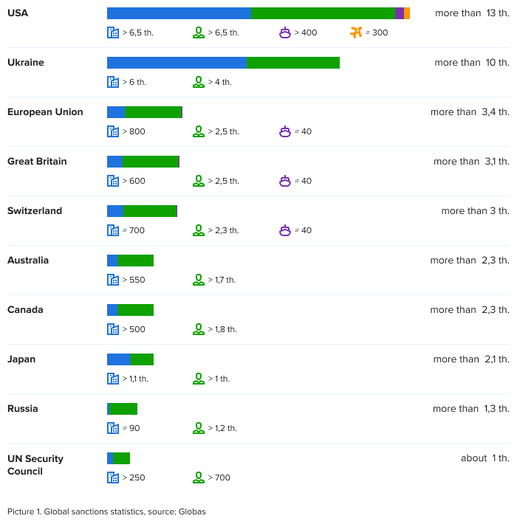 SANCTIONS CHECK
There is no unified consolidated global sanctions list. The departments of each country and international organizations make their own list in the national language. Sometimes information is published only in printed pdf format, which makes it difficult to verify. Therefore, an independent search is very labor-intensive and does not guarantee an accurate test result.
Globas has all necessary tools to perform a sanctions check for companies and individuals.
Source: Credinform