PKPU CASE DEVELOPMENT IN 2021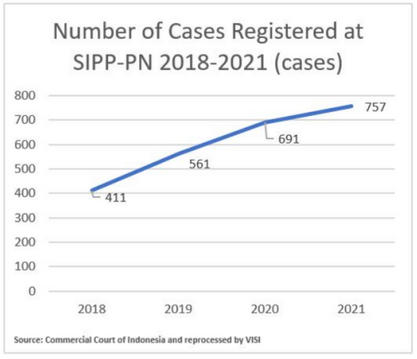 The unstable economy in Indonesia has led to an increase in cases of Postponement of Debt Payment Obligations (PKPU) in Indonesia. There was an increase of 9.55% of the total cases in 2021. Even so, developments in 2021 are considered better when compared to the average increase in the previous three years which reached 30%. This happened because of the increasingly conducive business and economic conditions in Indonesia in the midst of the ongoing Covid-19 pandemic. Based on the Case Search System (SIPP) updated in 2021, there were 757 registered cases with details of 646 cases of Bankruptcy and Suspension of Obligations for Payment of Debt and 110 cases of Petition for Declaration of Bankruptcy.
This increase was still caused by several business obstacles that occurred in recent years such as from competitiveness, operations, demand, and supply chain which in 2020 was exacerbated by the Covid19 pandemic.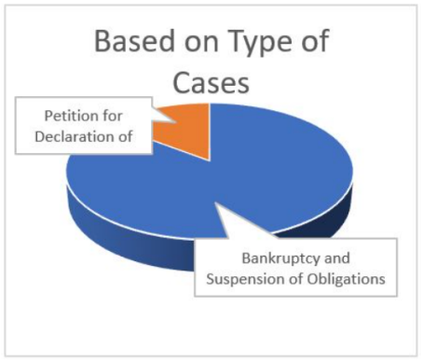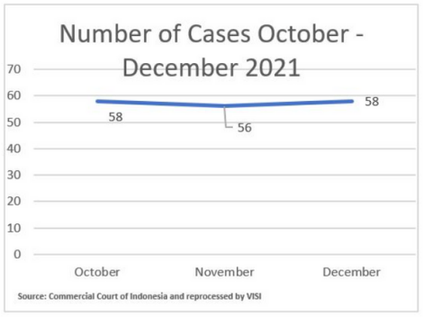 Based on the development of PKPU cases in Q4/2021, the growth in the number of cases from October to December is quite stagnant, in the range of 56-58 cases per month. This also indicates that there is an increase in economic stability in the business world during the Covid-19 pandemic.
WHICH INDUSTRY IS MOST INVOLVED IN THE PKPU CASE IN 2021?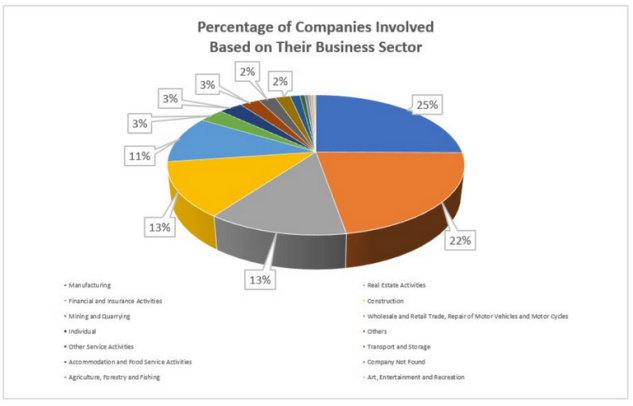 After processing and analyzing the data, most of the subjects involved in the case came from the Manufacturing sector (25% of the total subjects involved), Real Estate Activities (22%), Financial and Insurance Activities (13%), Construction (13%), and Mining and Quarrying (11%). This sector is a business sector which in its operation requires large-scale mass or human resources which is very constrained when there are regulations on social restrictions as a government measure to cope with the Covid19 pandemic (although there are several other factors that influence and have become obstacles to the sector's business in recent years).
MANUFACTURERS WHICH MOST INVOLVED IN THE PKPU CASE IN 2021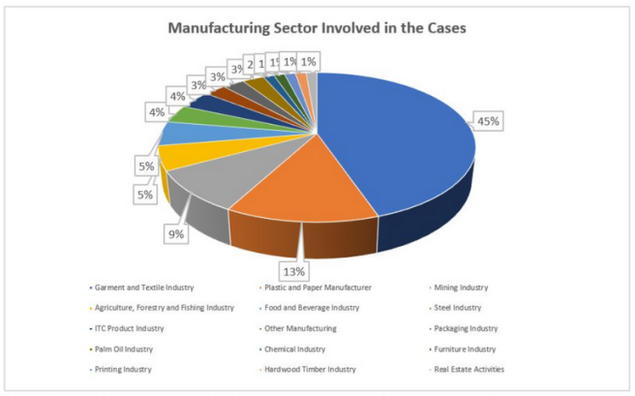 Based on the type of industry, most of the companies come from the Textile Industry sector (45%), Plastic and paper industry (13%), Mining Industry (9%), and the rest are under 5% of the total. The high number of Textile Industry companies involved in PKPU cases was caused by the poor economic conditions of the industry in recent years so that the obstacles that emerged after the Covid-19 pandemic made it increasingly difficult for these companies to survive.
Source: CRIF