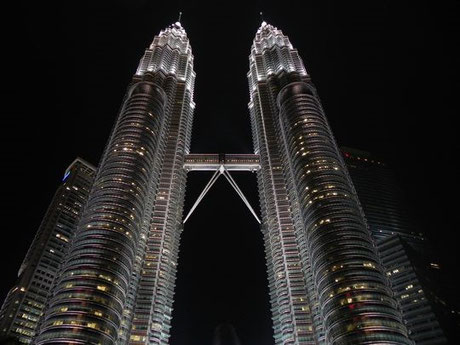 SUMMARY
Overall Score: 22 - Stable
Political risk: Stable 7/10
Economic risk: Stable 8/10
Commercial risk: Stable 7/10
The risk assessment of a country is made up of 3 components, being Political, Economic and Commercial. Each component is scored out of 10 with 1 being the highest risk and 10 the lowest
Political Risk – Stable
Malaysia is experiencing an unprecedented period of political turmoil. In 2018, a multi-ethnic alliance ousted the Malay-nationalist UMNO party, which had ruled the country since independence. In March 2020, however, the Pakatan coalition collapsed and UMNO returned to power in a new coalition led by Prime Minister Muhyiddin Yassin of the Malay party. He battled political infighting and questions over his legitimacy before resigning in August 2021. Ismail Sabri Yaakob (UMNO) took over as the new prime minister. However, Ismail is closely associated with the Muhyiddin government — which was widely criticized for mishandling the country's response to the COVID-19 pandemic. Consequently, the political scene remains volatile and fresh elections are likely once the current state of emergency, triggered by the pandemic, comes to an end.
However, the political volatility has had little impact on institutions or policies to date and World Box Intelligence believes that there are unlikely to be any significant changes after the next election either, hence our political risk rating remains relatively high.
Economic Risk – Upgrade from 7 in September 2021 to 8
The COVID-19 pandemic has had a significant impact on the Malaysian economy, especially on lower-income households, as a result of strict government-imposed lockdowns. A ban on interstate travel has been in place since January 2021, and the country's international borders have remained closed since March 2020. Both restrictions could be lifted this year.
Malaysia experienced a deep recession in 2020, with rising unemployment and a sharp drop in foreign investment. However, economic growth forecast are being lifted. In October 2021, Bloomberg reported that - according to its latest survey results - Malaysia's growth outlook had been upgraded by the most in Asia (85 basis points to an expansion of 5.65% next year). An improvement in domestic demand and continued robust exports is supporting the economy, which recorded GDP growth of 16.1% in the second-quarter. Malaysia has ramped up its vaccination programme, with nearly 90% of the adult population vaccinated by early October 2021. A strong V-shaped recovery is likely underway given the size of the support measures for the economy and Malaysia's experience following the Asian financial crisis of 1997-98 and the global financial crisis of 2007-08.
Commercial Risk
Malaysia ranks second behind Singapore among the ASEAN nations in the World Bank's Ease of Doing Business rankings. Malaysia's global ranking is also improving: the country rose by nine places to 12th position in the World Bank index Doing Business 2020. That places it above a number of advanced economies, such as Austria, Australia, France, Germany, Japan and Taiwan.
Malaysia benefits from good infrastructure, an English-speaking business and consumer environment, and a well-established legal framework. However, the implementation of national policies varies from state to state, with Kuala Lumpur regarded as the easiest place in which to conduct business. Corruption remains a challenge. Malaysia dropped six places to 57th position among 180 countries in the Transparency International (TI) Corruption Perceptions Index (CPI) for 2020, released in January 2021. Transparency International, the global anti-corruption coalition, cited factors such as the stalling of institutional reforms, the discharge of several high-profile cases, limited access to information on matters of public interest, and continuing cases of abuse of power and corruption by public officials.
November Bulletin
Political Risk – No change to risk rating
A general election is not due until 2023, but Prime Minister Ismail Sabri Yaakob's coalition is unlikely to survive that long and an election is almost certain once the pandemic is under control. The vote is likely to take place towards the end of this year or early next year. Worldbox Intelligence believes the outcome of the election will not have a significant impact on policies and the business environment.
Economic Risk – Upgrade 7 to 8
A V-shaped recovery appears underway reflecting the success of the vaccine programme, which has now covered almost 90% of the adult population. That should allow a full opening of the economy in the coming months. Fiscal and monetary policy will remain supportive, with the central bank expected to keep its key policy rate at 1.75% until mid-2022 to support a firmer revival in domestic demand. Inflation poses little threat to the loose monetary stance. Underlying inflation, as measured by core inflation, is expected to remain subdued, averaging between 0.5% and 1.5% in 2021, amid continued spare capacity in the economy
Commercial Risk – No change
The COVID-19 pandemic and the associated lockdown measures have badly affected certain sectors of the corporate environment. Up to 50 per cent of Malaysia's small and medium enterprises (SMEs) closed permanently or temporarily, with many reporting zero income. Although the economy is now recovering, many SMEs continue to face severe cashflow problems, and are not able to rehire staff or even pay for raw material to re-start their operations. The outlook for the banking sector is improving as loan demand rebounds in tandem with the brightening economic outlook.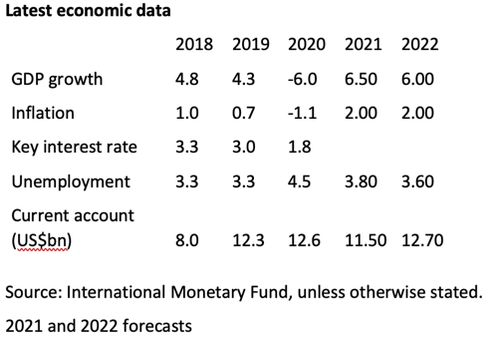 ---
About Worldbox Business Intelligence
An independent service, Worldbox Business Intelligence provides online company credit reports, company profiles, company ownership and management reports, legal status and history details, as well as financial and other business information on more than 50 million companies worldwide, covering all emerging and major markets.
Worldbox was founded in the 1980s, with the vision to become a global business provider. Its ability to deliver data in multiple languages in a standard format has strengthened its brand.
Source: Worldbox