The pandemic has highlighted the vulnerability of many African economies to disruptions in supply chains. Weak infrastructure within and between African countries has left many reliant on imports and has undermined export growth. Many businesses across the African continent, for example, focus on flying in goods from China and India and reselling them at a higher price. But that now appears to be changing, says Adrian Ashurst, CEO of Worldbox Business Intelligence.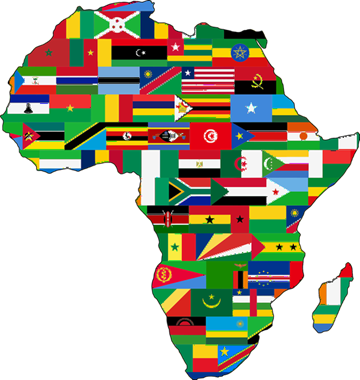 South Africa, Morocco and Egypt have sophisticated supply chains similar to those of developed countries, but the rest of the African continent lags significantly due to weak infrastructure. This is perhaps the key impediment preventing African economic growth from taking off. Some analysts make a comparison with Southeast Asia and China at the beginning of the 1980s. 
Certainly, intra-African trade remains very low. Intra-regional exports, for example, amounted to just 16.6% of total African exports in 2017 (the latest year for which figures are available), compared with 68% in Europe and 59% in Asia, according to UNCTAD. The implementation of the African Continental Free Trade Area (AfCFTA) at the beginning of 2021 has highlighted the internal opportunities available to African businesses. The world's largest free trade area connects 1.3 billion people across 54 African countries. The trade pact could boost intra-African trade by up to 52% by 2025, according to officials.
Meanwhile, the pandemic appears to have opened the eyes of African entrepreneurs to opportunities in local manufacturing. The business consultancy Africa Rising says it has seen a new trend of businesses trying to import more machines into African nations to set up local production centres, instead of importing finished products. It adds that international firms investing in African countries are actively looking for local components that they can use in their factories on site, and that supply chains are moving closer to these factories.
Rob Withagen, co-founder and CEO of Asoko Insight, a corporate data platform for Africa, says the trend is most visible (unsurprisingly in light of the continent's struggles to acquire sufficient vaccines) in the pharmaceuticals industry, but it also appears to be taking place in the consumer goods sector, from beverages to food and toiletries. Apart from the pandemic, rising wages in China have created opportunities for low-cost, labour-intensive manufacturing in Africa.

Multinationals are also starting to appreciate Africa's potential, with carmakers setting up production facilities in a host of countries, from Angola to Rwanda and South Africa. Carmakers are targeting Africa partly, according to some analysts, to recoup some of the vast investments they have made in the internal combustion engine, which risks being wiped out by the rise of electrical vehicles in many other markets over the next 10 years or so. But the creation of a pan-African free trade area has also played a role. Apart from the need for better infrastructure to export cars from Africa and to other African countries, the main handicap facing carmakers is the lack of consumer finance. But some of the larger players, such as Toyota, can develop their own financial arms in these markets.
Infrastructure the key
Better infrastructure would allow African businesses to develop and serve local, national and international demand, and efforts are gradually being made to improve transport networks. However, Africa needs to spend around US$130bn to US$170bn per annum to meet its infrastructure needs and is up to US$108bn short of that target, according to the African Development Bank. So attracting foreign aid and investment is key. China has become a major player in this respect. Indeed, many of the biggest infrastructure projects in Africa have Chinese backing. These include the US$12bn Coastal Railway Project in Nigeria and the US$4.5bn Addis Ababa–Djibouti rail link.
Figure 1: Infrastructure Spending Projections: Global and Africa, in Trillions USD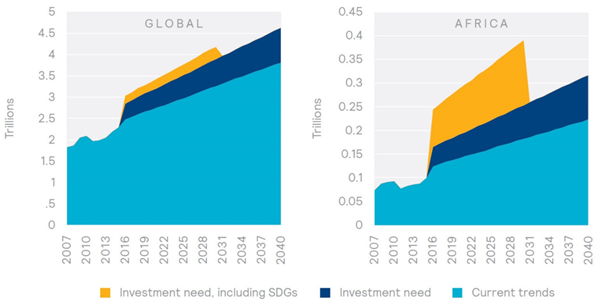 SDGs = Sustainable Investment Goals Source: Global Infrastructure Hub's "Infrastructure Outlook: Africa" (2018)
China's ambitions in Africa are prompting others to respond. In September 2021, the EU launched Europe's Global Gateway strategy, prompting comparisons with the China Belt and Road Initiative. Earlier this year, President Biden unveiled plans to relaunch the Prosper Africa trade initiative with the goal of significantly increasing two-way trade and investment between the US and Africa.
Technological solutions could also help. In September, for example, TradeMark East Africa (TMEA) signed an agreement that will see the launch of a system that aims to eliminate paperwork and introduce a digital process that increases the visibility of supply chains between the UK and Kenya. The system has deployed blockchain technology to link supply chains and enable fast logistic clearance and easier trading. The UK–Kenya Trade Logistics and Information Pipeline (TLIP) digital trade corridor is expected to see increased bilateral trade that would benefit the entire East African Community (EAC).
In conclusion, there are reasons for hope that Africa can finally start to fulfil its economic potential in the coming decades by developing a manufacturing industry that offers stable employment and attractive wages. Much will depend on the ability of local entrepreneurs to develop regional manufacturing hubs that will encourage multinationals to follow suit. Considerable investment in infrastructure and the development of a robust banking system to provide finance to businesses and consumers alike will also be required.
Source: Worldbox