BEUC NEWS - 14.07.2023
Crucial digital policy legislation being drawn up at the EU level such as the AI Act, which is the first attempt worldwide to regulate AI systems specifically, will rely heavily on technical standards(1). Consumers' protection of their privacy, autonomy and dignity will depend on technical standardisation, and how European standardisation organisations will interpret and implement legal concepts related to fundamental rights. This raises serious concerns among civil society representatives, given that these organisations do not have the necessary institutional, procedural, and substantive governance structure to address the related questions such as the definition of an unwanted bias in AI-system decisions.
This new legal study commissioned by BEUC and ANEC (written by Professor Hans Micklitz, EUI) provides a pathway to reform the process by which harmonised technical standards are drawn up and the way standardisation bodies work so that they are better able to address these challenges.  It is also key to draw a line between what must be done via EU legislation and what can be delegated to standardisation bodies. Finally, standardisation must better involve representatives of civil society and not only be driven by private, for-profit interests.
Among the studies' suggestions is the elaboration of a 'Standardisation Governance Act', which would require the development of technical standards to include civil society representatives and comply with fundamental rights from the outset.
READ THE REPORT: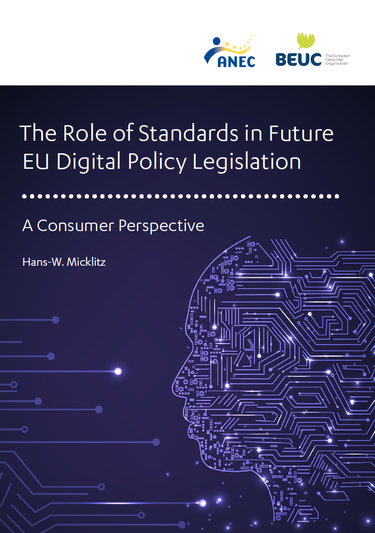 (1) Standards are an agreed set of guidelines established by a body of experts about how to make a product, manage a process or deliver a service. Standards help to set an expected level of performance of that product or service.
Source: Schufa/BEUC news