The large wave of insolvencies feared in the coronavirus crisis, when state aid expires again, has not occurred. Last year, however, the number of company bankruptcies returned to pre-pandemic levels. For 2023, experts expect an increase.
In 2022, there were 4,750 bankruptcies, reported Statistics Austria on Thursday. In 2019, there had been 4,887. In the years in between, there was a slump to, for example, only 3,009 insolvencies in 2021. Compared to 2019, 2.8 percent fewer bankruptcies were recorded last year, compared to 2021 by 58 percent more. More than a fifth of all insolvencies in 2022 were in the service sector, followed by construction and trade. "The much-feared wave of bankruptcies has so far failed to materialise," says Tobias Thomas, Director General of Statistics Austria.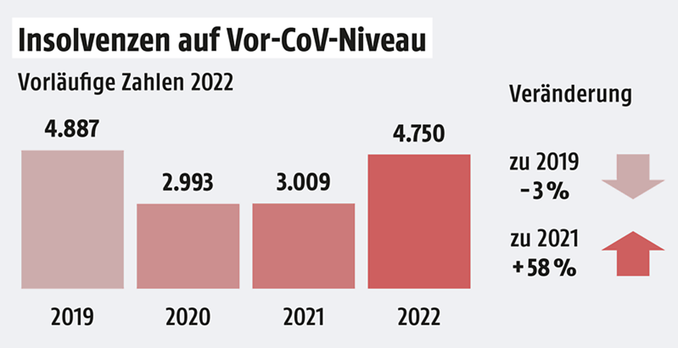 Graphics: APA/ORF; Source: Statistics Austria
Gerhard Weinhofer from the creditor protection association Creditreform expects a significant increase this year. "This year, the number of insolvencies will definitely exceed the level before the pandemic," Weinhofer said in an APA interview. "There will be at least 6,000 corporate bankruptcies." The upward trend of the previous year continued in January with an increase in bankruptcies of 58 percent.
"General weather situation not very rosy"
Asked about the reasons for this year's expected increase, the expert named the effects of the various crises: "The general weather situation is not very rosy." Uncertainty in the economy is high. Basically, refinancing is currently becoming more expensive, in addition to high inflation, shrinking margins and the immense shortage of labor, which has an inhibiting effect, said the expert.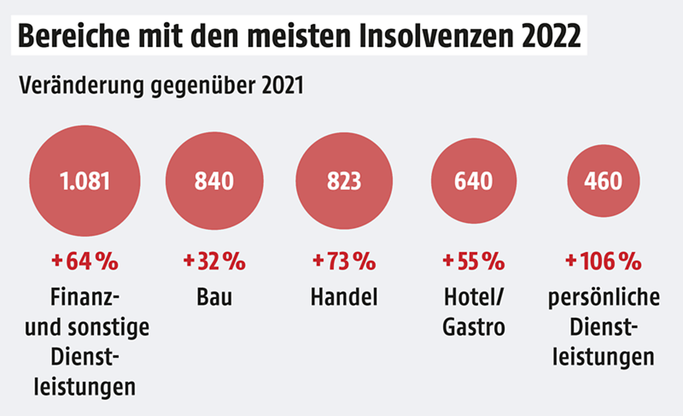 Graphics: APA/ORF; Source: Statistics Austria
In the fourth quarter of 2022, insolvencies have also levelled off at pre-pandemic levels: in the period from October to December 2022, 1,208 companies became insolvent, which corresponds almost exactly to the number of the fourth quarter of the previous year (1,205), when the number of insolvencies began to converge again to pre-crisis levels.
61,823 new companies
Last year, 61,823 companies were newly entered in the business register. This corresponded to a minus of around six percent compared to 2019, when there were 65,490 registrations. In the fourth quarter of 2022 (13,555 registrations), the minus was lower than in the final quarter of 2019 at three percent.
Most registrations at the end of 2022 were in financial services/other services (3,810), personal services (3,294) and trade (2,632). Rather few registrations were recorded in the transport (526), information and communication (712) and construction (763) sectors.
Sources: red, oesterreich.ORF.at/ agencies