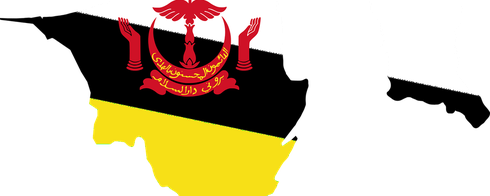 SUMMARY
Overall Score 22 - Stable
Political risk: Stable 8/10
Economic risk: Stable 7/10
Commercial risk: Stable 7/10
The risk assessment of a country is made up of 3 components, being Political, Economic and Commercial. Each component is scored out of 10 with 1 being the lowest risk and 10 the highest.
Political Risk - Stable at 8
Brunei is one of the last absolute, albeit benevolent, monarchies in the world. It enjoys considerable political stability, doubtless helped by the fact that the country's citizens enjoy one of the world's highest standards of living, thanks to large oil and gas reserves. Brunei, with just 430,000 people, sits on 1.5 billion barrels of crude-oil reserves plus 15 trillion cubic feet of natural gas beneath the seabed, according to the US Energy Information Administration.
However, oil production has been on a declining trend since 2006. That, along with low oil prices, is placing increasing pressure on the country's fiscal position – a situation that, if sustained, may threaten Brunei's tranquil political environment.
Sultan Hassanal Bolkiah, 76, is one of the world's longest-reigning monarchs. He became sultan in October 1967 after his father, Sir Haji Omar Ali Saifuddin, abdicated. The sultan is both head of state and head of government, serving as the prime minister. Executive power is exercised by the government. Brunei has a legislative council with 36 appointed members, limited to a consultative role.
The country introduced Sharia law in 2014. The first phase covered crimes punishable by prison sentences and fines. A second phase, adopted in 2019, imposes a strict penal code for certain offences. Brunei practises a dual legal system – one based on Sharia and the other on British common law – and both systems continue to run in parallel. Some analysts have argued that the adoption of the Sharia system is aimed at deflecting criticism of the lifestyle of the sultan and other members of the royal family.
All senior judges are appointed by the sultan. However, according to Freedom House, the courts appear to act independently when handling civil matters. Freedom of the press and assembly are significantly restricted. Online speech is monitored by the authorities but is lively nevertheless. Freedom House adds that genuine political activity by opposition groups remains extremely limited. The National Development Party was permitted to register in 2005 after pledging to work as a partner with the government and swearing loyalty to the sultan; it is the only registered party.
The sultan appears to enjoy genuine popularity amongst his subjects, being able to move about freely with little security. Citizens have access to free healthcare, education and an extensive housing development programme, which offers subsidised homes. Citizens pay no income tax and enjoy very low energy costs. The country ranks fifth in the world by GDP per capita at purchasing power parity. However, there are wide discrepancies in living standards within the sultanate.
Crown Prince Haji Al-Muhtadee Billah, the eldest son of the Sultan of Brunei, is heir to the throne.
A former British protectorate that gained independence in 1984, Brunei is increasingly influenced by China. Tumbling oil prices from 2014 onwards prompted Brunei to embrace Chinese investment, with billions of dollars flowing from China into infrastructure projects. In return, the sultan has turned a blind eye to China's aggressive claims in the South China Sea – even those that overlap with Brunei's claims to the disputed waters. The two countries are engaged in joint exploration for oil and gas in the South China Sea. In 2020, China accounted for about 18 per cent of Brunei's total trade.
Economic Risk – Stable 7 out of 10
Brunei's economic fortunes are closely tied to the oil and gas industry, which generated over 54 % of GDP and around 60% of government revenues in 2020, according to the IMF.
The economy was affected by the global COVID-19 pandemic and the associated slump in oil and gas prices. However, Brunei fared relatively well compared with other ASEAN countries, helped by an exemplary response to the outbreak. The authorities adopted one of the most effective campaigns in Asia, issuing clear restrictions on mass gatherings and travel, providing information about the risks of exposure, and offering guidance on how people could protect themselves. The number of new infections was quickly suppressed, while robust fiscal and regulatory measures helped sustain production, household income and consumption.
Movement restrictions have gradually been lifted since November 2021, with an acceleration in restrictions advancing from March 2022. The economy contracted by an estimated 1.6 percent in 2021 according to the IMF. That represents Brunei's worst economic performance since 2016, when the GDP declined 2.5% as oil prices plunged from US$110 a barrel in June 2014 to US$30 a barrel in January 2016.
Commercial Risk – Stable 7 out of 10
Brunei is a middle-ranking country in which to do business, according to the World Bank, which ranked it 66th out of 190 in its 2020 Ease of Doing Business guide, behind Singapore, Malaysia and Thailand in Southeast Asia. The country continues to rank in first place, alongside New Zealand, in terms of "Getting Credit". It ranked in 16th place worldwide in the ease of starting a business. Moreover, significant improvements were seen in the local regulatory framework for the indicators on "Enforcing Contracts" and "Resolving Insolvency".
Brunei also scores well in terms of corruption, ranking 38th out of 180 countries in Transparency International's (TI) 2019 Corruption Perceptions Index. (There is no later ranking, presumably due to the COVID-19 outbreak.) Only Singapore ranks higher than Brunei in Southeast Asia.
The country has recorded substantial improvements in competitiveness in recent years. In 2019, it recorded a score of 62.76 in the global competitiveness index published by the World Economic Forum, up from 60.42 in 2017. Brunei climbed six places in the rankings in 2018 alone, to 56th, behind Singapore, Malaysia, Thailand and Indonesia in the ASEAN region. As of December 2022, the 2019 rankings were the latest available.
The banking system remains sound and well-capitalised, according to the IMF's September 2022 Article IV report. The IMF says the capital ratio is high, at over 20% of risk-weighted assets by the end of 2021. The non-performing loan NPL ratio, meanwhile, has declined from 4.7% in 2020 to 3.6% in 2021. Private sector credit growth picked up in the second half of 2020, probably reflecting increased economic activities post-pandemic, according to the IMG, but dropped again in the second half of 2021 as new Covid-19 variants affected the economy.
December Bulletin
Political Risk – Stable at 8 of 10
There is little obvious threat to Brunei's political stability. There is no credible opposition, the government controls the media and Sultan Hassanal Bolkiah, 76, remains popular and shows no sign of wishing to relinquish the throne. The succession of Crown Prince Haji Al-Muhtadee Billah, when the sultan does step down, seems assured. That should ensure continuity of government economic and social policy.
Living standards remain very high on a global and regional basis, and there is no sign of any significant opposition to the status quo. Brunei has close military ties with the UK and Australia that continue to provide protection against any possible regional instability.
Economic Risk – Stable 7 out of 10
The IMF, in its September 2022 Article IV report, projects growth of 1.2% in 2022 on the back of easing of mobility constraints and a positive terms of trade shock due to surges in energy prices. Inflation, while remaining relatively low at 2.2 percent at the end of 2021, has increased in 2022 and pressures are expected to remain elevated in the short term, owing to supply disruptions and higher food and fuel prices, the IMF reported. Consumer prices grew at an annual pace of 4.3% in September. Inflation is likely to moderate next year as supply bottlenecks, caused by the pandemic-related lockdowns and the war in Ukraine, ease and as global growth slows.
The economy continues to diversify, with double-digit growth of the food/agriculture sector and a new fertilizer sector commencing production, according to the IMF. Diversifying the economy away from oil and gas is a key priority. According to the BP Statistical Review of World Energy 2021, Brunei's oil reserves will likely run out in 27 years. In January 2021 the government published an economic blueprint, part of the broader Brunei Vision 2035 strategy. This seeks to increase foreign investment and develop the following sectors: Downstream Oil and Gas; Halal Food; Tourism; Info-Communications and Technology; and Services, including Islamic Finance and Technical and Vocational Education and Training (TVET).
The IMF says the main risk to the economy include potential new COVID-19 variants, increased global uncertainty associated with an escalation of the war in Ukraine, monetary tightening from the US and a larger-than-expected growth slowdown in China.
Commercial Risk – Stable 7 out of 10
Allianz Trade (formerly Euler Hermes) rates Brunei as BB2 in its latest medium-term country risk rating. Malaysia is rated exactly the same, while Indonesia has a B1 rating.
Latest economic data

Source: IMF unless otherwise stated
f – forecast (Worldbox Business Intelligence unless otherwise stated)
1 – Trading Economics
* - Worldbox Business Intelligence forecast
---
About Worldbox Business Intelligence
An independent service, Worldbox Business Intelligence provides online company credit reports, company profiles, company ownership and management reports, legal status and history details, as well as financial and other business information on more than 50 million companies worldwide, covering all emerging and major markets.
Worldbox was founded in the 1980s, with the vision to become a global business provider. Its ability to deliver data in multiple languages in a standard format has strengthened its brand.