Although Indonesia is the world's fourth most populous country and spans one-eighth of the globe, it has a remarkably low profile on the world stage. But that may be about to change as rapid growth propels the country towards the top of the global economic rankings, says Adrian Ashurst (President) of Worldbox Business Intelligence
The IMF explains that "in the aftermath of the Asian financial crisis, the country adopted a wide range of political and economic reforms (reformasi) that served the country well. In the political sphere, the military-led political system was replaced by a democratic multiparty system with term limits for the president
Indonesia is expected to shoot up the global economic rankings in the coming decades, rising from eighth place in 2016 to fourth by 2050, according to the consultants PwC. Other analysts are predicting similar trends as the country builds on "the remarkable political, economic, and social progress [achieved] during the past two decades", according to the International Monetary Fund IMF.
The IMF explains that "in the aftermath of the Asian financial crisis, the country adopted a wide range of political and economic reforms (reformasi) that served the country well. In the political sphere, the military-led political system was replaced by a democratic multiparty system with term limits for the president".
Meanwhile, a wave of reforms reduced the dominant role of the government in the economy and began a shift towards a more market-based economy. Consequently, the economy has "become much more resilient, benefiting from comfortable external positions, low public debt, and ample international reserves".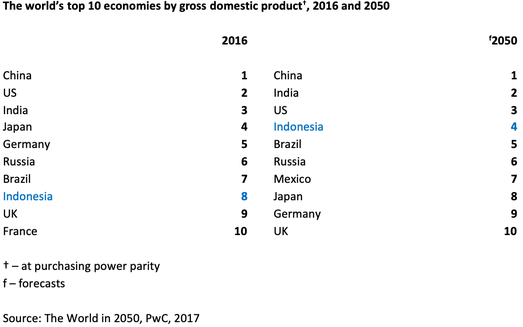 The economy has certainly performed strongly in recent years and all the indications are that this will continue. In its most recent report on Indonesia, published in January 2021, the IMF said that "building on the economic rebound in the second half of 2020, real GDP is projected to expand by 4.8 percent in 2021 and 6 percent in 2022, led by strong policy support measures, including COVID-19 vaccine distribution plans as well as improved global economic and financial conditions".
Over the longer term, improvements to the economic and political environment, external developments and the country's natural advantages will underpin its surge up the global economic league table. The Organisation for Economic Cooperation and Development (OECD) sums up Indonesia's position best:
"Indonesia is Southeast Asia's largest economy, rich in all types of natural resources as well as cultural diversity. A young and dynamic democracy, it is urbanising and modernising rapidly. In contrast with most OECD countries and many emerging economies, around half of the population is under 30 years old, and the working-age population ratio is set to rise during the next decade."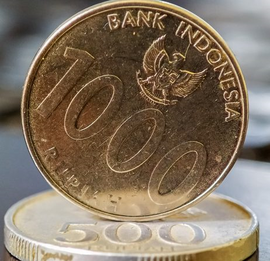 COVID and Sino tensions work in Indonesia's favour
As well as the "demographic dividend" outlined above, geopolitical developments are working in Indonesia's favour. Trump tariff hikes, for example, hit Chinese exports to the US, encouraging companies in the engineering, textiles and technology industries to bring "forward plans to move production out of China to neighbouring countries to avoid getting caught in the crossfire", according to the UK fund manager Aviva Investors.
Indonesia will also benefit from the diversification of the global supply chain as multinational companies seek ways to reduce reliance on China to manufacture their supplies following the outbreak of COVID-19, according to Southeast Asia's largest bank, DBS.3 Jakarta has sought to exploit the situation, with the government establishing a special task force to attract businesses leaving China and facilitate their relocation to Indonesia. Last June, Indonesian President Widodo said that seven foreign companies had confirmed plans to relocate production facilities to Indonesia, mostly from China, with another 17 exploring opening facilities in the country.
Reform effort continues
In a bid to further integrate the country into the global supply-chain network, Indonesia announced in February 2021 that it had designated 245 industries as "priority" and would offer incentives to attract capital to those sectors. The move was part of a presidential regulation that supersedes Indonesia's "omnibus law", sweeping legislation that altered more than 70 labour, tax and other key laws.
Jakarta named semiconductors and other electronic components, wireless communication equipment, and electronic audio and video equipment as priority industries, along with nickel-ore processing and refining. Nickel is a key material in electric vehicle (EV) batteries, and Indonesia, which has the world's biggest nickel reserves, is aiming to develop an EV battery industry. The US EV maker Tesla is currently in talks to build an EV battery factory in the archipelago.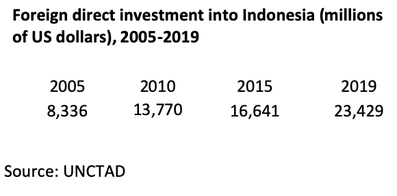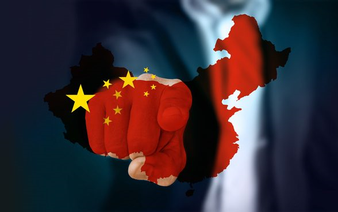 Chinese investment surges
Indonesia is also benefiting as China accelerates its investment in manufacturing bases that can supply Southeast Asia's rapidly growing economies as well as export outside the region and overcome those US tariffs. Rising labour costs and tighter environmental regulations are also boosting the shift from China to Southeast Asia.
Tensions between India and China are further contributing to this trend. India placed restrictions on foreign direct investment (FDI) last April and banned Chinese apps from the country in June. It is also reportedly mulling a ban on domestic telecoms firms using technology and equipment produced by China's Huawei. India put more than 150 Chinese investment proposals worth over $2 billion on hold in June 2020. Consequently, Chinese money that would have flowed into India has been redirected to Indonesia and other Southeast Asian countries.
Vietnam has been one of the major beneficiaries to date. Data from the US Census Bureau show a 35.6 per cent surge in goods imports from Vietnam last year, compared with a 16.2 per cent contraction in goods imported from China.7 But Indonesia is also gaining, according to the latest data, which show that Chinese FDI into Indonesia, including flows from Hong Kong, rose by 11 per cent in 2020, to $8.4 billion. Areas of growth for Chinese investment in mineral-rich Indonesia include mining and smelting. The EV battery sector is likely to prove a magnet for Chinese investors too.
Chinese companies have already invested heavily in the Indonesian fintech sector, one of the most dynamic in the region. The disruption to Chinese investment in India's tech sector is likely to boost Indonesia's appeal. Like India, Indonesia has a rapidly growing middle class and growing internet penetration, and the country is underbanked: fertile ground for the rapid growth of services such as peer-to-peer lending. Chinese investors include Ant Group, which has invested in the Indonesian startup e-commerce platform Bukalapak, while Tencent has invested in GoJek, the "super app" that operates Indonesia's largest e-wallet, GoPay.
Source: Worldbox
This article is one of a series outlining key business trends in Southeast Asia identified by Worldbox Business Intelligence.
Worldbox Business Intelligence is a global solution provider of business intelligence and data analytics, headquartered in Zurich, Switzerland with research operations around the world.