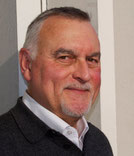 During FEBIS 2021 General Assembly the 23rd of September, Daniel Francis Morin announced his retirement from our Federation, where he held the position of Secretary General over the last 6 years.
However, this is no farewell for Daniel, who has unanimously been accepted as honourable member at the proposal of FEBIS Treasurer, Sven Buckenberger.

The next chapters in this role will be written by Sílvia Amaral da Fonseca, who has been appointed by FEBIS Board as successor of Daniel and shall take up the position with immediate effect.
Silvia started her collaboration with FEBIS as General Manager in January 2020 and will continue to manage the day-to-day business and matters relating to the federation.