CRIF AG analyzed how the bankruptcies in March 2021 compared to the previous year. In March 2021, they rose for the first time to 688, an increase of 16.2%.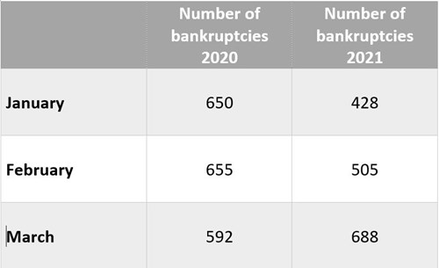 Compared with February 2021, bankruptcies rose by 36.2% in March 2021.
Analysis by Industry
The largest increase compared to March 2020 is in the areas of health care (400%), recruitment of workers (300%) and other professional, scientific and technical services (138%).
Compared to the same period last year, the catering industry recorded 11% fewer bankruptcies, but an increase of 54% compared to February 2021. In the area of accommodation, 60% more bankruptcies were recorded in March.
Source: CRIF, SkyMinder