Credinform Rus: The Court of Arbitration does increasingly become a tool for settlements of debt in Russia
Every 10th case returns to the applicant without consideration. It means that many Russian companies try to recover bad debts through an arbitration but withdraw cases as the claim amount was settled before legal action started in practice.

We combined the experience of Russian companies participated in arbitration cases over the past five years. Here are the results of our research.
Statistics:  In 2019 the arbitration courts considered a record 2,1 million cases. The number is growing annually, and over the past 5 years it has increased 1,3 times. Companies are increasingly turning to arbitration to resolve economic disputes with business partners but upholding their interests in court does not always guarantee satisfaction of claims and repayment of losses.
Most often counterparties sue directly among themselves (61%). Economic disputes with administrative authorities account for just over a third of arbitration cases (32%). The share of bankruptcy cases is 7%.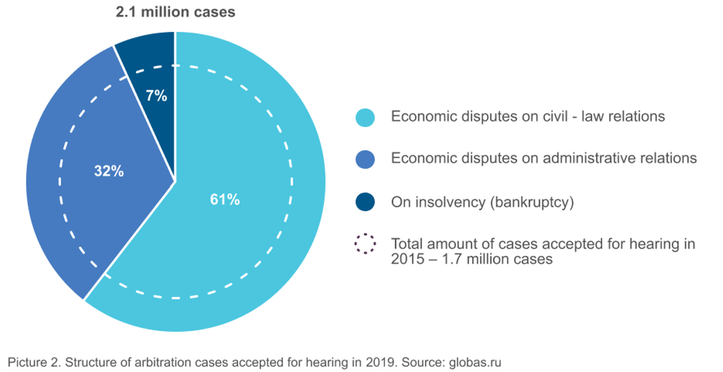 The total amount of claims filed by courts in 2019 amounted to 5,7 trillion RUB (US$ 80 billion). Of these, the courts decided to recover only 31% of the initial amount of claims, which amounted to 1,8 trillion RUB (US$ 25 billion). The percentage of satisfied claims is reducing annually: 5 years ago, 46% of the claimed claims were recovered.
Non-fulfillment of contractual obligations is the most frequent dispute between business partners in Russia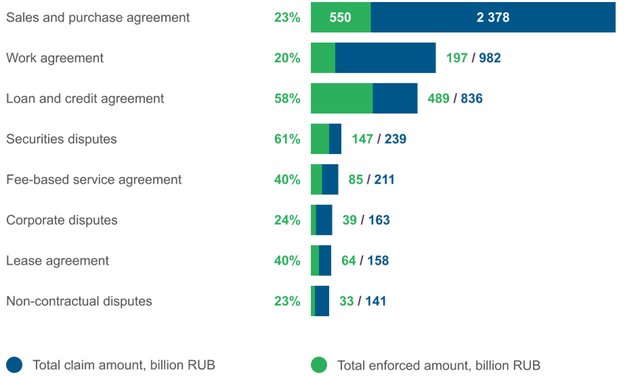 In 2019 the courts considered 514 thousand cases of non-fulfillment of sales and purchase agreements for the total amount of 2 378 billion RUB (US$ 32 billion). Of these, the court decided to recover less than a quarter: 550 billion RUB (US$ 7,6 billion) or 23% of the initial claims on debtors.

How to Minimize Risk
The resolution of economic disputes in an arbitration court is a traditional and generally accepted way but it does not always lead to a positive result since the probability of full judicial compensation for losses is very small.
The most effective way to avoid losses and minimize the likelihood of contractual obligations breach is to carefully check your buyers and suppliers requesting company credit reports from trusted business information providers and using reliable credit risk management solutions.
About Information agency Credinform Rus:
Information agency Credinform Rus is one of the leading business information providers in Russia. Since 1994 we have been offering risk management service assisting our customers – domestic and foreign – to check solvency of buyers or suppliers, quickly assess and mitigate third-party risk exposure and make better informed decisions doing business in and with Russia. The online solution Globas covers all legal entities and sole entrepreneurs registered in Russia.  The professional staff of Credinform Rus is ready to assist in identifying a company of interest and provide freshly investigated Russian company credit reports as well.
Credinform Rus Ltd.
190031 St. Petersburg,
Spasskii pereulok, 5
Phone: 007 812 406 8414
www.credinform.ru / https://globas.credinform.ru/en-GB
Source: Credinform Rus